SurvivingInfidelity.com
®

> I Can Relate

You are not logged in. Login here or register.
Betrayed Menz Thread - Part 34
Pages: 1 · 2 · 3 · 4 · 5 · 6 · 7 · 8 · 9 · 10 · 11 · 12 · 13 · 14 · 15 · 16 · 17 · 18 · 19 · 20 · 21 · 22 · 23 · 24 · 25 · 26 · 27 · 28 · 29 · 30 · 31 · 32 · 33 · 34 · 35 · 36 · 37 · 38
Incarnate posted 7/9/2020 05:59 AM
Welp. She asked me to stay over, and I said yes.
Several times now.
That last string with my ex was severed. Well, hacked through with a machete. That shit is -gone-. Year long dry spell is over.
Like, I'm still not -in love- with this woman. I don't know if I will be. It's only been a month, man, it'd be weird and creepy if I was. But when I'm with her, I'm comfortable. I'm at peace. I don't feel like I'm being judged, I don't feel like I'm being weighed and measured, I don't feel like I'm lacking in any way. I'm just there, with her, and she touches me.
Like, really touches me. My ex never did. She never rested her hand on my shoulder, never held my hand, ever rubbed my arm or leaned against me, never gave me any real contact. Even when we had sex, it was like, okay, now you're done, go away.
With my new girl, afterwards, she curls up against me and just melts into my arms. She holds me, pulls me close, rests her head on my shoulder and her hand on my chest. We were watching a movie tonight, and then it just turned into just the two of us, and when we were done, I lay there as she fell asleep against me, running her fingers through the hair on my chest, and if I wasn't an insomniac, I would have fallen asleep with her right there.
But I knew that my wakefulness would interrupt her rest, so I told her I wanted her to be able to sleep, I held her close for a little bit longer, and then I covered her up and let myself out.
When I leave her house, even if I'm bone tired from working in my shop all day beforehand, I'm energized and alert when I go. I'm rested. She is just an amazing little ball of light and comfort and happiness. She's easy to talk to and easy to listen to. I still don't feel "the spark", but I don't feel like anything is lacking because of that.
It's nice. Weird, but nice.
Butforthegrace posted 7/9/2020 08:34 AM
I still don't feel "the spark"
The older I get, the more I wonder if "the spark" is even real, or if it means anything. I have an old pair of heavy leather work boots. My feet bled the first few times I wore them, but over the years they have molded to my feet. They're my go-to shoes when I want my dogs to feel good.
Feel good. Comfortable. Molded to my feet.
Over the long run, I don't want shoes that dazzle me the first time I wear them. I want shoes that make me go "ahhhh" when I put them on for the 1,000th time, and look forward to the 1,001st time, knowing they will still feel "just right" every time.
HeartFullOfHoles posted 7/10/2020 17:58 PM
The spark is your own body drugging you. I'll take a nice content relationship any day. I don't need another Fing drug addict! You spend your entire life raising the stakes to keep them high, FTS.
HalfTime2017 posted 7/13/2020 13:00 PM
Incarnate, as I said in the NB thread, give it a run dude. Not all relationships will check off the boxes. Going thru infidelity has taught me if nothing else, nothing is perfect, and when you go searching for it, you end up in a worst position. Look at our wayward wives. Searching for that magical unicorn destroyed our marriages. That feeling, that perfect fantasy. Thats not what real relationships are.
Now with that said, I hear you. You may not be 100 sold on the attraction. Still, I say give it some time. You never know. She sounds like a pretty good person, and we all know the world is full of shitty females.
Westway posted 7/14/2020 12:52 PM
When I leave her house, even if I'm bone tired from working in my shop all day beforehand, I'm energized and alert when I go. I'm rested. She is just an amazing little ball of light and comfort and happiness. She's easy to talk to and easy to listen to. I still don't feel "the spark", but I don't feel like anything is lacking because of that.
Good for you Incarnate!
I too have a FWB who I see once in a while. We don't always have sex, but when we do it's really nice. And I always feel great afterwards, like a caveman who just killed a mammoth.

I feel energized and masculine. It's a great feeling after all the humiliation my STBXW put me through.
Just make sure you and this woman are on the same wavelength. She needs to understand you are not ready for permanency, in any aspect of your life, until your D is settled and you have had a chance to fully heal from the pain your WW inflicted on you.
I don't necessarily agree with HeartFullOfHoles, although I respect his opinion. I believe two people can comfort one another and meet each other's needs without placing high expectations on each other. I know that I won't be ready for another "content" relationship for a long, long time, but that doesn't mean I have to starve myself of affection and sexual attention from women.
[This message edited by Westway at 12:57 PM, July 14th (Tuesday)]
HeartFullOfHoles posted 7/15/2020 01:28 AM
Seems like I need to expand on my comments a bit.
There has been a bunch of research on the brain chemistry of love. My ex was all about the feeling of love "The chemical response." Part of her confirmation that I was the problem and her affair was destiny was how she felt during her affair. She has an addictive personality so this all fits perfectly for her.
Now I enjoy the brain chemistry of early love, but I also understand this is something that will fade a bit and mature over time. My ex was all about "Early Love" and I was always required to raise the stakes to keep her love feelings alive instead of us developing a more mature love based on reality. Exhausting!
What Incarnate describes is what I would call a content relationship. Enjoying being with each other, holding hands, cuddling, etc. Just because your brain isn't exploding with love chemicals doesn't mean you can't develop a long term relationship and after dealing with the "love, drug addict" I'd skip the chemical hijack for a good solid relationship.
Enjoy where you are, just make sure you both are on the same page.

64fleet posted 7/24/2020 13:58 PM
Any of you other guys feel nothing now? Like no joy, no sad, no nothing? Its been years now. Don't enjoy my hobbies any longer, I just work and sleep. House and yard and shop a mess, just don't care.
Something wrong or have I simply become an old man?

Brew3x posted 7/24/2020 20:08 PM
64fleet: Iíve lost interest in most of my hobbies. The only reason my house and yard are coming along iS because i got furloughed and have plenty of time. Before the furlough my house and yard were suffering extreme neglect. Iíve been healing well but Iím worried when I go back to the stress of work that Iíll be hit with a lot of A related emotion.
I would try to get out there and get something accomplished I know itís difficult but it might you feel good.
Incarnate posted 7/27/2020 09:54 AM
Howdy, gents. Been busy. Spending more and more time with my gf, which is awesome, as well as more time in the woodshop. The STBEW is out of town right now, deciding to go to one of our states's COVID hotspots, to meet with her degenerate APs who are from THEIR state's COVID hotspot. She left Saturday and will be back Wednesday night, so I'm parenting solo. It's been super calm, not a single meltdown from my autistic girls, everyone is happy and content.
Meanwhile, I've made these;
A 2x4 slab top workbench;

Had to make a router sled to perfectly flatten the top;

I inset ruled straightedges and t-track into the surface;

Got a thick piece of Aluminum 2x3 box tube for a fence for the tablesaw I have sitting in the workbench;

A dresser for my daughter (almost done, just need to finish painting the edges of the drawer faces then seal it all);

Keeping busy, that's for sure. No idle hands around here. I've gone from 65.48% of my total credit used, down to 9.82%, as I'm paying off my debt as quickly as possible. My credit score was ~600 at the beginning of the year, it's over 750 right now.
Weight is dropping, slower than I'd like, but it's dropping. Pretty sure I'm adding muscle as I'm dropping the fat, what with all the woodwork I've been doing. Plus, the gf is... well... let's just say I don't lack for cardio.

How're y'all doing? Can we get a "haven't caught COVID yet" soundoff?
steadychevy posted 7/27/2020 10:14 AM
Beautiful work, Incarnate. Currently still free of the China virus.
LosferWords posted 7/28/2020 15:46 PM
Safe here, bro. That is some amazing woodwork you are doing, Incarnate.
How are you holding up 64fleet? I remember you from way back when.
steadychevy posted 7/28/2020 19:10 PM
64fleet, I let a lot of things slide since 2013. I'm starting to catch up now. Might even catch up some day. I can't say I have unbounded enthusiasm as I think I used to have. I'm struggling with wondering if I want to keep ranching (in a much smaller way) or not. Ranching was a partnership thing and now it's only me. There's parts I enjoy very much and parts I now dread. Don't know.
64fleet posted 8/6/2020 16:19 PM
Still here, Los. Got 4 yrs til the girl is 18. Found out feb last year why my gut was always screaming. She joined AA for 6 mos, left the satchel for months under the dining room table, I read it. She wanted to apologize to folks she had wronged . At least I was top on the list.
HalfTime2017 posted 8/12/2020 10:39 AM
Incarnate, good to hear you're doing well with the GF. I knew it would be a good thing for you to explore further!
The woodwork looking great as well.
LosferWords posted 8/14/2020 16:17 PM
Hey 64fleet. I hear you. Work got real busy, then I took my son up into the mountains for a few days. That really sucks with what you're going through. Sometimes enough is enough, but that's your choice. Whatever you do, you have a safe sounding board here.
LosferWords posted 8/14/2020 16:32 PM
How is everyone doing? I am still navigating through divorce. As my therapist said, "The longest divorce in history." Had a great few days with my son in the mountains here in Colorado. Long overdue vacation. It was really nice though. Cheers, gents!
sisoon posted 8/15/2020 13:10 PM
Sorry about the D difficulty, Losfer. The vacation sounds good.
I'm doing pretty well, unless I've dropped the ball on some critical things, which is possible. I can't think of any urgent and important task that I need to be doing, but I worry...!
Son and GS are due Monday. I'm looking forward to their visit, even though we clash. I have to do a lot of rearranging computer and bike stuff and books to make rooms comfortable for them. (We live in an apartment, so my bike tools and parts and computer parts are in a bedroom, not a basement. Come to think of it, I retired from being a 'puter guy 5.5 or 6.5 years ago, so why don't I move the damned parts into our storage locker? or dump them, since they are no newer than 5.5 years old? The books are actually ones we want to give away, but no one wants them. Throwing them out ... we've never done that.)
We're in a stretch of beautiful weather, the longest I can remember. It's windier than I like (10-15 mph, which is a tough headwind for me), but the weather has been special. The Lake has been beyond beautiful, with so many shades of blue when I look from shore to the horizon.
Now, if only something good would start happening in the world beyond my Candide-esque garden.
Best regards, all. I hope you're finding some joy in these difficult times.
[This message edited by sisoon at 1:12 PM, August 15th (Saturday)]
tbkjcn posted 8/16/2020 20:14 PM
Hi all. Been away a while again. Adulting is hard.... Been working 6 days a week most weeks the last two months. Getting pretty sick of work, upper management is still "sheltering at home" but expect the rest of us to be out going to customer meetings (me), plowing fiber, doing installs, whatever... Every weekly manager's conference call ends with the director saying "and everyone stay home and be safe as much as possible, and get that backlog of projects cleared out."
Picked up a new hobby, something to keep me going, seeing as our June dive trip is obviously off, and my hopes of the December trip are fading be the hour. Astrophotography. Having a lot of fun. A blast actually. Blown through my "let's keep this cheap and see where it goes in a year" budget really fast and kept going.... But, I rationalize to myself that not going on two dive trips will still put me up for this year...
Here's two images from last night: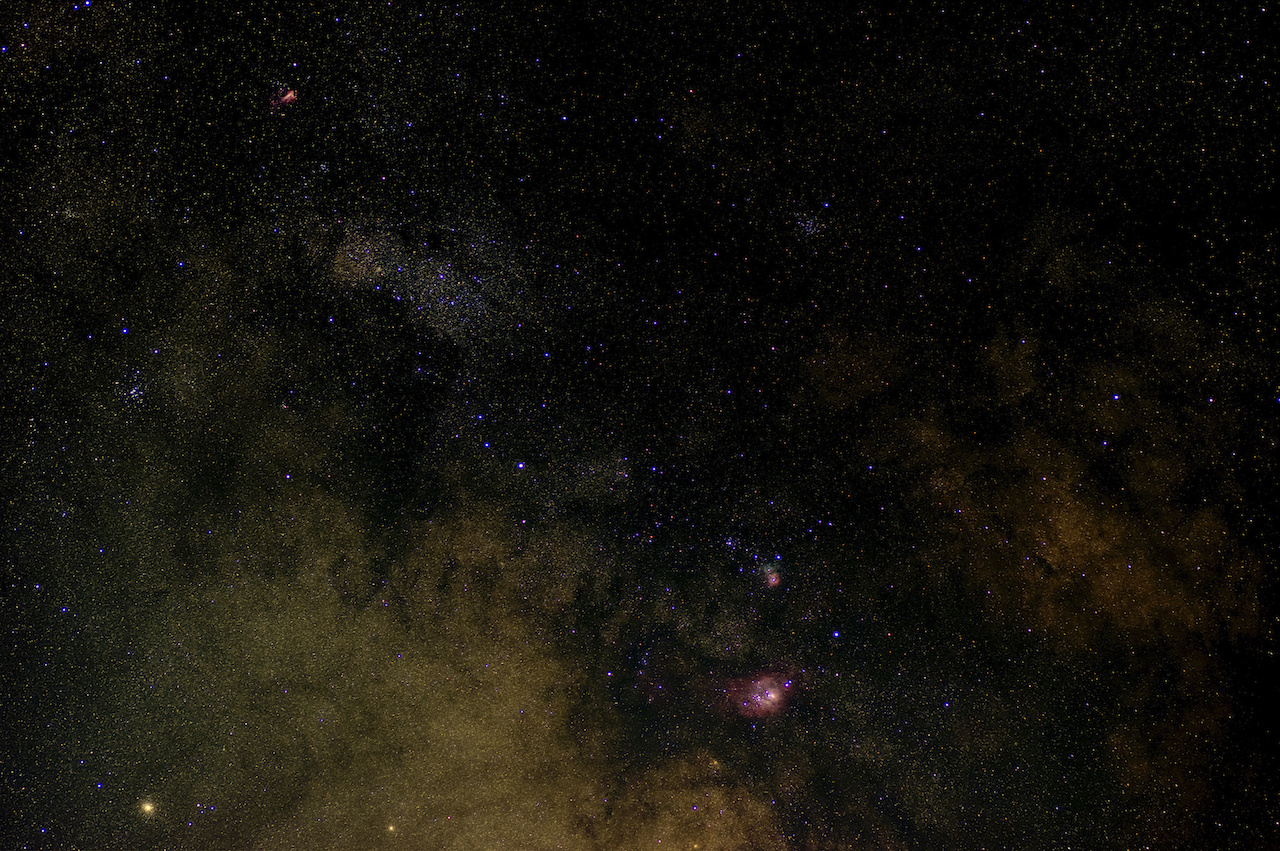 The Lagoon nebula in the lower center of the frame, about 4,500 light years away, with the Trifad nebula just above it. Way up at the top is the swan nebula. I have a separate image of that one.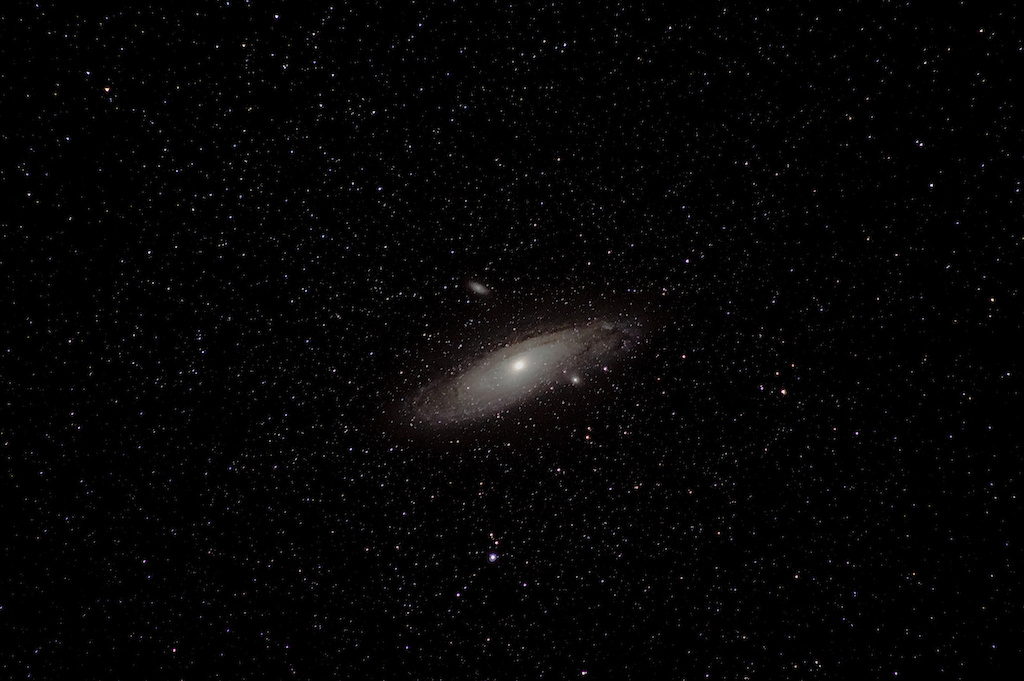 Andromeda galaxy, 2.5 million light years away. M110 just above it.
(I really scaled these down so they're not too big for low-bandwidth connections)
[This message edited by tbkjcn at 8:24 PM, August 16th (Sunday)]
LosferWords posted 8/17/2020 14:42 PM
Great pics, tbkjcn! My neighbor up near the marital house had a huge telescope and small observatory in his back yard. Really cool stuff! Sounds like a great hobby.
Hope the visit goes well, sisoon! I am the same way with books. I have some old technical ones that I can't seem to get rid of. Some of them are obsolete. I may just have to recycle some of them. Glad you are having some great weather. Let me know if you ever get out to CO. I know some great places for biking, whether you want to do mountain biking, street biking, or paved trail. That last one seems to be my main speed. I think I used up 8 out of 9 of my lives doing really stupid stuff on a bike when I was much younger.
tbkjcn posted 8/17/2020 16:41 PM
My neighbor up near the marital house had a huge telescope and small observatory in his back yard.
I wish I had a huge telescope. Or any telescope. Those were taken with a 200mm lens, on a simple single-axis tracker. I HAVE been eying a a refractor telescope with a 450mm focal length made for astro photography, and a proper GEM mount with computerized controls so I don't have to hunt and search for targets that you can't see by eye. But apparently with everyone staying home and disruptions to the supply chain, there's been a run on astronomy items. Well, I guess "run" compared to their normal volumes. I don't think people are hoarding telescopes. But every place I looked for astro photography stuff was quoting 4-week lead times.
Throwing them out ... we've never done that.

From someone with way more books that he needs, throwing away books ought to be a crime. Unless they're cheap pop fiction or something, not reference and "serious" fiction. Course, I have reference books for stuff that is 20 years outfit date. I suppose *those* can be gotten rid of. But not my college text books.... Not those. OK, maybe the ones for classes I didnt like, but not the rest.
So, do you see why I have too many books?
Pages: 1 · 2 · 3 · 4 · 5 · 6 · 7 · 8 · 9 · 10 · 11 · 12 · 13 · 14 · 15 · 16 · 17 · 18 · 19 · 20 · 21 · 22 · 23 · 24 · 25 · 26 · 27 · 28 · 29 · 30 · 31 · 32 · 33 · 34 · 35 · 36 · 37 · 38