SurvivingInfidelity.com
®

> I Can Relate

You are not logged in. Login here or register.
Betrayed Womenz Thread - Part 3
Pages: 1 · 2 · 3 · 4 · 5 · 6 · 7 · 8 · 9 · 10 · 11 · 12 · 13 · 14 · 15 · 16 · 17 · 18 · 19 · 20 · 21 · 22 · 23 · 24 · 25 · 26 · 27 · 28 · 29 · 30 · 31 · 32 · 33 · 34 · 35 · 36 · 37 · 38 · 39 · 40 · 41 · 42 · 43 · 44 · 45 · 46 · 47 · 48 · 49 · 50
EllieKMAS posted 12/7/2019 22:51 PM
They do indeed have some pretty skull ornaments, but they are expensive! So I found a pack of 32 3" plastic ones and I'm gonna paint them with metallic paint... gonna fill in the tree with black feather boas, crystal garland, gonna make some mirror ornaments, seriously, in my head this is looking amazing...
Me looking at shiny things!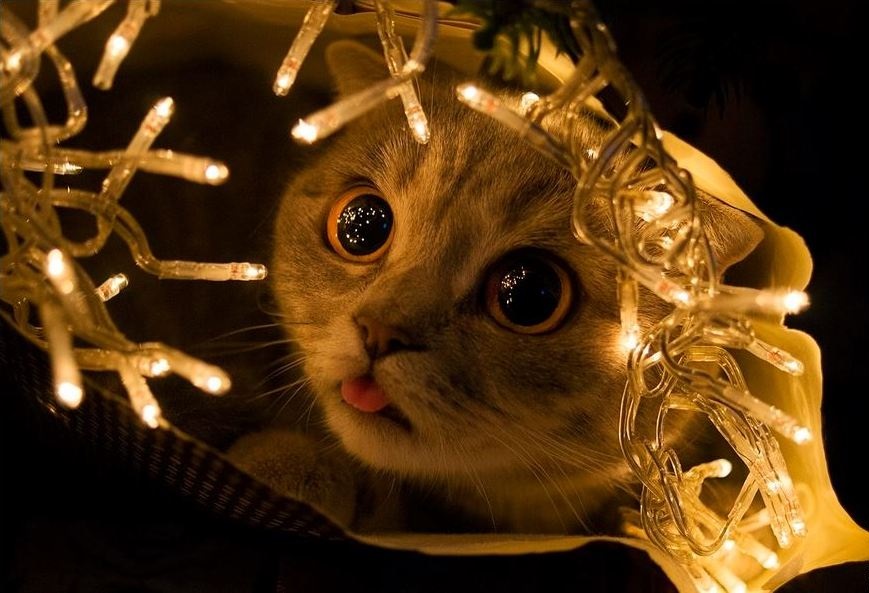 HeHadADoubleLife posted 12/8/2019 06:23 AM
OMG Ellie. My actual cat, while we were decorating:
HeHadADoubleLife posted 12/8/2019 06:28 AM
Got the photos to upload! Had to scratch out DDs faces in my photos.
cocoplus5nuts posted 12/8/2019 07:16 AM
Wow, HHADL! That's all so pretty!
I will never have decorations like that. I'm so challenged when it comes to stuff like that. If I showed you a pic o my living room, you'd probably have a heart attack. ☺️
EllieKMAS posted 12/8/2019 12:01 PM
Ooooooh HHADL - I love all the glass trees! I may steal that idea from you when I start buying decoration stuff

Thankfully for whatever reason, my kitties aren't really interested in the tree, but my Brody is a christmas ribbon junkie, so presents have to be put way up...
[This message edited by EllieKMAS at 12:02 PM, December 8th (Sunday)]
Chaos posted 12/8/2019 13:09 PM
My tree is up with lights and the topper. No ornaments yet. I didn't say FUCK YOU to it once this year. Progress.
We have a new kitten. Kitten proofing the tree will add a challenge.
When it comes to decorations or anything in life - one can not over sparkle!
Speaking of...I may have ordered a silver metallic halter neck top to wear on NYE. And why yes - yes I do have some undies worthy of it...
HeHadADoubleLife posted 12/8/2019 13:49 PM
Omg yes, cats and decorations are a nightmare.
Re: kitten proofing, I used sticky stuff to keep the trees and stuff stuck down to the tables.
Then for the ornaments... they looooove to bat at the ornaments. The benefit of having a fake tree is that once the ornaments are on, I use the wire part of the branches and bend the ends backwards, creating a little hook type thing so that even if they bat at them, the ornament can't come off.
I used the little twist ties that all of the lights and such came with to twist tie the light strands to the branches so that their little claws couldn't pull those down too. I have to stay one step ahead of those little guys!
Ellie, all the glass trees were at Marshalls and Home Goods, just FYI. There were even more of them in different colors and styles, but I only have so many flat surfaces in my place haha.
When it comes to decorations or anything in life - one can not over sparkle!
So true!!
Oh and Coco, my place is normally a shitshow of epic proportions, so I'm sure if I saw your place I would just say, yup, me too! I spent an entire 14 hour day cleaning just my living room and kitchen the day prior to our decorating party because it had gotten so bad haha, and it's only a couple hundred square feet. Oh well, I'm glad I did it, we had a great time decorating together. I still have a hard time forcing myself to keep it clean, but since I already have a baseline it's not so bad. I just can't be bothered to care when it's only me and the cats. I honestly didn't even turn the lights back on for a couple of days afterward because it felt like, what's the point?
I've been trying to make plans with some friends to come over, but I only have 1 single friend, and one couple with kids, who still live in my town, and our schedules just haven't been matching up. Everyone else is busy with babies, engagements etc.
I think that's the hard part about this stuff. I think it's pretty of course. And it's nice to look at. But then I really just loved seeing how happy it made everyone else. It only feels festive when there are people to share it with. When it's just me, it's like, I'm surrounded by stuff, but not people. My cats certainly don't care about all the time and effort I put into it, other than that there are now annoying things in their way when they want to climb on the tables.
I dunno. Sorry to be depressing. I'm trying to stay excited about all of it. To look at it as an investment for future holidays when I'm feeling less blue. But it does feel pretty pointless.
Bah humbug. KTHITD.
[This message edited by HeHadADoubleLife at 1:51 PM, December 8th (Sunday)]
EllieKMAS posted 12/8/2019 13:55 PM
(((HHADL)))
You are allowed to feel excited about the sparklies just for you too ya know...
HomeGoods = crack I really avoid that store cus I can do some serious damage in there LOL
I will second the motion to KTHITD tho.
HeHadADoubleLife posted 12/8/2019 14:53 PM
Thanks Ellie! I know it's ok to, it's just that I don't. Being an introvert, it's hard for me to people all day, and I really do need a break from it. But I still like to come home and be around the people that I love. I don't do well living alone. I can get into a hermit-type funk way too easily.
After all the peopling I do for work during the day, I want to come home and wind down, but I like it to be amongst people I care about. Even just doing my own thing and not talking to anyone because we need our space, but knowing that we're all there together. I'm not sure if that makes sense. It's one of the many reasons why the exit A and losing the girls at the same time was so hard.
But circumstances were that I needed to get a place quickly so that I could work again, and given that I had 5 cats to take in since XH was going to leave them in a back alley if I didn't, roommates weren't really an option. I do like that I got a 1 bedroom and not a studio. I did that intentionally, so that in case the girls did need to come to me there would be enough room for them too.
I have a friend who also went through a divorce recently who I would consider living with again (we were roommates in college and in our 20s), but she has a giant dog that would probably eat my cats soooooo, here I am.
I really don't need much. I'm content with very little. A nice warm bed, clean towels, animals to cuddle with and a TV or computer to watch my crime shows. The extra trimmings and what not only feel good when it's all there to share with other people.
I used to decorate the girls' bathroom on every holiday. I would wait until they went to sleep, then sneak in there and put those little window clings up on their mirror, for whichever holiday it was - valentine's day, st. patrick's day, Easter, halloween etc. - and leave them a little treat. Something my mom used to do for us too. She used to mail holiday themed care packages to me in college, and then started doing it again for the girls once they lived with us.
I decorated my place for all of the holidays this year too, but it just felt like I was going through the motions. We're social creatures, I just feel more grounded when I have that family at home. Without it, it feels kind of like I'm just floating along.
I guess that's what keeps me coming here to SI every day. It feels like a community to be a part of. Not that online interaction is a replacement for in-person. But since I only have a couple of friends who actually live in my town, and they're always so busy we only talk via text anyway, I feel like most of my communication has become via some kind of written channel.
You know those days when you just really feel like you need a hug, but there's no one it would be appropriate to hug around you? That's pretty much been me every day for the last year. I bought a weighted blanket, and it's helpful of course, but there's still nothing like a good hug. It doesn't help that I realllllly don't like getting hugs from anyone except for a select few people. Pretty much my SO, my parents, my brother, and my grandma. I'm very much in a personal space bubble when it comes to anyone else.
Anyway, now I'm just rambling. I've got too much time on my hands since my call time isn't for another hour.
Oh, and Ellie, yeah we always had issues with cats and ribbon... it's so fun to see hairballs full of it

I honestly just stopped buying it. I get cloth ribbon now, which has helped, I think because it doesn't make that same crinkly sound that they seem to love. I also try to get it wide, which seems to deter them. I also find that at Marshalls or Home Goods... we don't have HG near us, I actually have to drive quite a ways to get to one, but it's worth it!
cocoplus5nuts posted 12/8/2019 19:51 PM
HHADL, I'm an introvert so I totally get what you're saying. I cannot people all day. I try to do only one thing outside my home a day so I don't get overwhelmed.
Recently, though, I'm finding that I have a lot more energy and can handle being out with people more. Today, I went to yoga, went to our 12yo's wrestling meet (which took 4.5 hours! and was crowded), and got a tree. Whew! That's a lot for me in one day, but I feel fine.
I've been periodically meeting friends for coffee. I really enjoy it. I'm always sad when it's over. I feel like I could sit and talk with them all day. The last time I did something like that, I met with 2 other people, was out for maybe 2 hours, and took 2 days to recover. 😄
I was also not a hugger. I could not handle people invading my personal space, and certainly not touching me. I find myself touching and hugging people all the time now. I hug my friends for no reason. I touch people on the arm or back when we're talking.
There's one fellow yoga teacher who I hug every time I see. We only see each other yoga for classes or coming and going. We've never done anything together. We don't even text or chat on Facebook. Yet, we hug each other every time, and I don't feel weird about it at all. So out of character for me.
I think it's all part of a transformation I'm going through right now. I can't describe it, but I see it and feel it. Th9ngs are aligning for me.
BigBlueEyes posted 12/9/2019 01:50 AM
Beautiful decorations HHADL,
So very classy
DaisyAnne posted 12/9/2019 08:59 AM
Beautiful tree and decorations! We have no cats but the best dog ever. The only time he messes with an ornament is when his tail hits the tree (tree is by "his" window") and the ornament falls.
We get a real tree every year. Our ornaments are family ornaments. Handmade from the kids and each year I buy an ornament that reflects the year. Our tree is filled with photo ornaments, special occasion ornaments, etc. This year I had a hard time figuring out what to do for our ornament. Obviously it was my worst year ever and I want to forget 2019. Yet, I know I can't. I picked a happy memory when our niece graduated Harvard. Ironically, it was just days after DDay.

We had a very nice weekend. Date night Friday night was perfect and the rest of the weekend was filled with family events. Yesterday we spent the afternoon at my daughter's cheer competition. There was a 2 hour break between their performance and awards so we had snacks and beer in the car while watching football on the laptop. We had a great time all together, being silly as a family. It is times like these that it truly breaks my heart that he almost destroyed these beautiful moments because of a psycho whore.
skeetermooch posted 12/9/2019 11:46 AM
I love seeing your pictures and this thread is great.
I'm doing more xmas decorating than usual this year - it's never been my thing particularly, but I put up lights outside and bought and decorated my tree much earlier than usual.
It feels like reclaiming my life, my home, my holiday.
EllieKMAS posted 12/9/2019 11:49 AM
Hey Skeeter - glad you found your way to womenz!
The abbreviation dictionary I believe is on my profile

You will need to know them for when we get feisty!
20yrsagoBS posted 12/9/2019 13:17 PM
I only put a few ornaments on the tree. WH put the outside lights up.

Since he separated our finances two years ago, I go out of my way to hold down the spending.
I had about 10k saved up, then broke my leg twice in 2018. I havenít recovered from that yet. I also, foolishly, changed jobs, taking an enormous pay cut. I start a new position on 12/17, so hoping to climb back out of the hole.

F the holidays. Infidelity just coats them in shit
Chaos posted 12/9/2019 17:40 PM
Welcome to the Womenz skeeter
20yrs - we call that KTHITD (kick the Holidays in the dick)
Iím baking right now. The chocolate motivated me.
Anyone want a Holiday chuckle - my new favorite song by one of my favorite bands The Seasons Upon Us by Dropkick Murphys. Go to YouTube. The video just makes it that much more. And Iíve been belting it from the top of my lungs.
[This message edited by Chaos at 7:58 PM, December 9th (Monday)]
EllieKMAS posted 12/9/2019 20:23 PM
My theme song - "No Fucks Left to Give" by Thomas Benjamin Wild



Ugh glad Monday is over with...
Chaos posted 12/10/2019 06:49 AM
Fuck Tuesdays!
Started my morning with cleaning up cat poop and pee as well as unclogging a toilet.
All before I had my coffee!!!!!
NorthernMSB posted 12/10/2019 07:07 AM
Too late but Tallgirl...why would they need 15 minutes and ANY prodding to remove the IUD?? I had one put in after my ablation and then HATED the feeling so had them remove it a week later. literally 10 seconds...
All the decoration pictures are lovely. I haven't done a thing, don't feel like it. My Dday was Christmas Eve last year as some of you might remember.
I have three cats and two ENORMOUS dogs so the tree goes up about December 19th and comes down Boxing Day. Otherwise the carnage is extensive.

[This message edited by NorthernMSB at 8:58 AM, December 10th (Tuesday)]
cocoplus5nuts posted 12/10/2019 07:31 AM
Ugh, Chaos! That's the worst!
Pages: 1 · 2 · 3 · 4 · 5 · 6 · 7 · 8 · 9 · 10 · 11 · 12 · 13 · 14 · 15 · 16 · 17 · 18 · 19 · 20 · 21 · 22 · 23 · 24 · 25 · 26 · 27 · 28 · 29 · 30 · 31 · 32 · 33 · 34 · 35 · 36 · 37 · 38 · 39 · 40 · 41 · 42 · 43 · 44 · 45 · 46 · 47 · 48 · 49 · 50