SurvivingInfidelity.com
®

> I Can Relate

You are not logged in. Login here or register.
Betrayed Menz Thread - Part 34
Pages: 1 · 2 · 3 · 4 · 5 · 6 · 7 · 8 · 9 · 10 · 11 · 12 · 13 · 14 · 15 · 16 · 17 · 18 · 19 · 20 · 21 · 22 · 23 · 24 · 25 · 26 · 27 · 28 · 29 · 30 · 31 · 32 · 33 · 34 · 35 · 36 · 37 · 38
LosferWords posted 10/8/2020 12:30 PM
Thank you, sisoon. I agree that I didn't marry her to D her. That would be kinda weird, yeah?
Still, change is a PITA....
Seems like most good things in life are a lot of work, and a PITA, but worth it.
Incarnate!? Where the hell are you, bro? I thought you were going to update us a few days ago.
How's everyone?
Unhinged posted 10/13/2020 22:51 PM
Gentz, if you get a chance please check out unsearch in R forum: "A Form of Reconciliation." This guy's got a lot of shit to unpack and could use some wise ole BH wisdom.
Incarnate posted 10/15/2020 17:51 PM
Incarnate!? Where the hell are you, bro? I thought you were going to update us a few days ago.
I'm here. Sort of. Things have been (generally) great. Me and my girlfriend are spending a lot more wonderful time with each other, I'm back on my keto diet, I'm STARTING to lose some weight again, and work is... well, work. I like my coworkers and the job is easy if boring.
Right now, though, today, I'm more than a little pissed. Pretty damn well livid.
The ex got home and ignored my 15yo autistic girl when she tried to get her attention. THAt caused an epic level meltdown, to which the ex just... drove away. So now I have a very upset, very strong, self harming 15 year old girl freaking the fuck out, and it's 100% my ex's fault.
She has not washed a single dish dirtied by me, nor washed a single article of my clothing, in well over 2 years, even before we separated. And yet here I am, elbow deep in her fucking moldy coffee mugs and rotting food that she took out of the fridge on her days to take care of the house, and guess who has to get it clean so that the behavioral therapists (who are mandatory reporters) don't file a complaint with Child Welfare Services? Fucking me.
And yet, *I* am the shit parent. *I* am the one trashing the house. *I* am the one who "doesn't have a clue" on how to run a household or take care of my kids.
Maybe she should just fuck back off to Texas, to where her piece of shit partners are, since she can't even be bothered to get off the fucking phone long enough to acknowledge her daughter or even flush the goddamn toilet when she's done taking a piss while on the phone.
And she has the -audacity- to freak out at me that the house isn't clean enough for her on her days off and then lock me out of access to the bathroom we share, while freaking out that she's "tired of living in a hallway". Well, she was given the option of a room that I wouldn't have to walk through, and she declined because she wanted easy access to the bathroom and didn't want to move her shit, so guess what, it's something she has to deal with. Besides, how do you think I feel? I have some crazy bitch living in my hallway.
I. Can't. WAIT. Until her ratchet ass moves THE FUCK out. Then I can have my house and she can slum her way through life and blame everyone else for her lack of a soul.
Maybe being exposed to someone who is actually a good person who has their shit together has made me angrier than I should be, but goddamn, my blood is boiling.
In other news, I got a dope lego set for prime day. The MCU Avenger's Quinjet. I'm gonna put it together tonight, I think. IDGAF how old I get, Legos are always going to be awesome.
Notthevictem posted 10/19/2020 18:24 PM
Walloped posted 10/21/2020 10:53 AM
Gents -
Havenít been here in forever. Personal, health and other reasons, but itís all good. Just wanted to pop in and say hey.
In other news, I got a dope lego set for prime day. The MCU Avenger's Quinjet. I'm gonna put it together tonight, I think. IDGAF how old I get, Legos are always going to be awesome.
Incarnate
- that is awesome. My son is a huge LEGO fan - mostly Harry Potter and Star Wars sets and we have display shelves for all of it. We also play the LEGO video games as a dad/son activity and are waiting on The Skywalker Saga to come out.
Key question: Do you let your new girlfriend play with your LEGOís? If yes, you know itís true love.
william posted 10/25/2020 13:04 PM
I keep thinking of that death star in the spider man movie
longsadstory1952 posted 10/25/2020 23:34 PM
I know Iím late to the party, but I just stumbled overWALs post that he had been divorced for a year. After his wife cheated again. I donít know. Itís kinda like finding out the Germans won WW 2 after all. Makes me doubt everything.
So if my math is right, she started cheating right after her last post In 2018 crowing about her successful 12 year R.
Crap!

[This message edited by longsadstory1952 at 11:35 PM, October 25th (Sunday)]
Tred posted 10/29/2020 20:52 PM
I just stumbled overWALs post that he had been divorced for a year. After his wife cheated again. I donít know. Itís kinda like finding out the Germans won WW 2 after all. Makes me doubt everything.
Or that they didn't bomb Pearl Harbor. (bet you did Nazi that coming!) Longsad, that was a wake up call for me as well. 9 years out, and consider myself reconciled, but if it can happen to WAL, it can happen to anyone. Luckily I have the tools to handle it like he did if that happens to me. WAL is legend.
And gents, if you haven't signed up for the Christmas Card Exchange down in F&G, do so! It's really great. Take a look at it, you have until Oct 31st to sign up. Real menz dig anonymous glitter.
Cheers gents, hope all are doing well and staying safe.
[This message edited by Tred at 9:03 PM, October 29th (Thursday)]
LosferWords posted 10/30/2020 17:00 PM
Real menz dig anonymous glitter.
I feel like I should get that quote embroidered and framed to hang up in my bachelor pad.
I agree with Tred's perspective, longsad. I've always practiced and promoted the idea that no matter how hard you work on the marriage and reconciliation, you also work on yourself. Either way, you have nothing to lose by working on yourself. That way, if a bomb hits, or things just kind of fall apart like they did with me, you're mentally equipped to do what you gotta do to move on and live life. Last I heard, WAL is doing great. Me, I'm doing pretty damn good too. Sometimes part of "letting go of the outcome" also includes being prepared for the worst.
Cheers and Happy Friday, Gents!
wincing_at_light posted 10/30/2020 20:35 PM
WAL is alive and well.
As long as we don't include the 50+ year old garage door I've been wrestling with for the last 2 hours because it busted a weld, jumped its track, and I can't keep it on the track long enough to get it closed all the way.
Not a huge deal, since I just use the garage for storage/workshop...but not what I wanted to be doing on a Friday night.
(I'm guessing it's 50 years old. I don't have any idea, really. The house was built in 1906. The garage sometime in the '30s. No idea if the garage door is original...but doubt it since it's aluminum. All I know is that it uses a weird spring/tension system that I've never seen before.)
The good news (?) is that I'm pretty sure at this point that I've got it just enough off kilter that it's permanently wedged mostly closed, so it's mostly secure. Just one more thing on the list of things I need to repair/remodel in a 115 year old house.

I thought it might be fun to own a "historic" home. Doing stuff like refinishing the original wood floors. Learning how to work with lathe and plaster.
I'm here to tell you it's not. It's not fun at all.

ETA: On the other hand, this could just accelerate my plans to convert the garage into an economy apartment. It was on my wish list as a place for my parents to stay when they roll through town (they're RV people in their retirement years), so I can just move that up on the priority list now that I've got an excuse.
[This message edited by wincing_at_light at 8:39 PM, October 30th (Friday)]
Tred posted 10/30/2020 22:02 PM
The Beetlejuice theory worked! Say WAL in three consecutive posts and he appears!
Glad to hear about the struggles with the garage door wall. Sounds like you are enjoying the place

. Our garage gets used for everything but a garage - it's not a lack of desire, it's a lack of design. Two car garage, but has a center column separating the garage doors instead of just one large door. Handy, unless you actually want to pull a car in without folding the mirrors. To put it in perspective, my old 2012 Camry would need bacon grease to fit in. At least the old John Deere garden tractor fits in well.
Glad you are doing well WAL. I'm certain your house is as unique as you are! I'm guessing it has 7 gables and shit. Those old houses were cool.

longsadstory1952 posted 10/30/2020 22:40 PM
Tred. That was fucking brilliant. Truly had me lol.
WAL. Please say that WS is living in a Dodge Dart behind a grain silo, fighting intractable leprosy, with 47 cats to keep her awake at night.
tbkjcn posted 11/2/2020 19:35 PM
Crap, I had a whole post all typed in, then it got lost...
Just checking in. Congrats/condolences on the divorce Losfer. WAL, I hope you got your garage door fixed....
Just waiting for everything to go back into Covid lockdown here. We've gone from about 1,500 cases in the two counties in August to about 10,000 now. Course work still wants us to come in. While upper management hasn't set foot in the office since mid-march. We're "essential" I'm told. Had a chat with the director the other day and explained that "essential" wasn't the same as "expendable." We'll see where it goes.
Still exploring my new Covid hobby. It's the perfect pandemic endeavor. It takes place in the middle of the night, in the middle of nowhere, and if there is someone else there, they tend to keep their distance in case you make a light

I've replaced just about everything I started out with, except the credit card. That's still the same. Currently learning to use a dedicated camera, with a cooler on the imaging chip that cools it to -20C. A camera you can't look through took some getting used to, as well as a telescope I can no longer look through

My current project, NGC7000, the North American Nebula. Two hour's worth of exposure using a hydrogen/oxygen wavelength filter so far, and I think another hour or so ought to bring out more detail, although some of the stars are starting to get blown out. Not sure I can get another hour with it being totally blown out.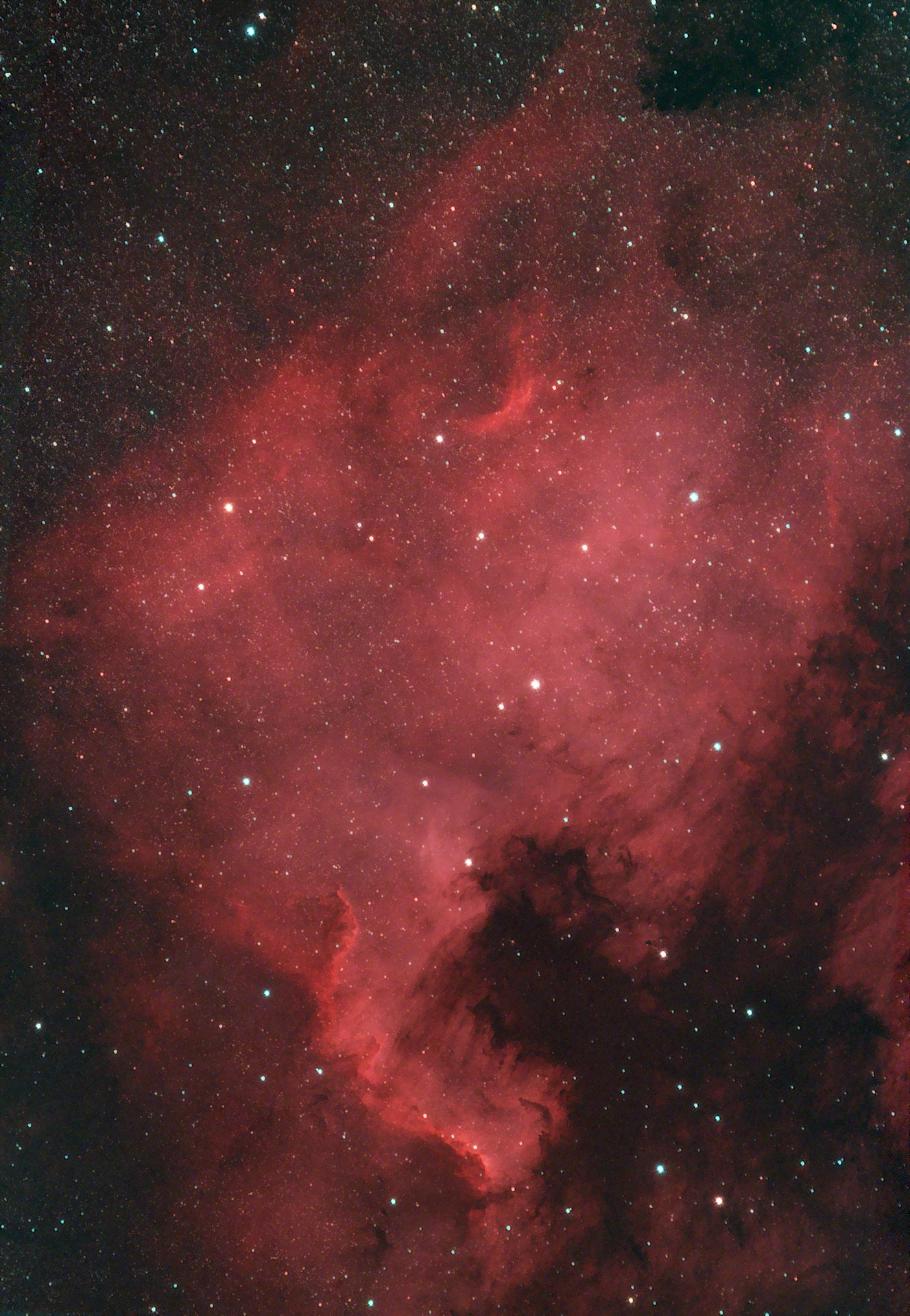 [This message edited by tbkjcn at 7:37 PM, November 2nd (Monday)]
sisoon posted 11/3/2020 12:14 PM
That is an amazing, beautiful photo. Just amazing and beautiful.
steadychevy posted 11/7/2020 06:55 AM
Are you still out there, Incarnate? Fires under control? Life progressing?
tbkjcn posted 11/10/2020 08:59 AM
Thanks, sisoon. I'm having a lot of fun with this, even though sometimes it means short nights and tired days

.
If you liked that, here's one still in-progress. The California Nebula. This hydrogen cloud is being excited by the bright star just above it, Xi Persei, which is about 13,000 times brighter than the sun. Gotta say, I really don't see the name here. I say "still in progress" because it's only 90 minutes of exposure so far, and that's not enough. The whispy edges are still too noisy. Gonna add at least another hour to it whenever I can manage to get a cloud-free night when I'm not busy.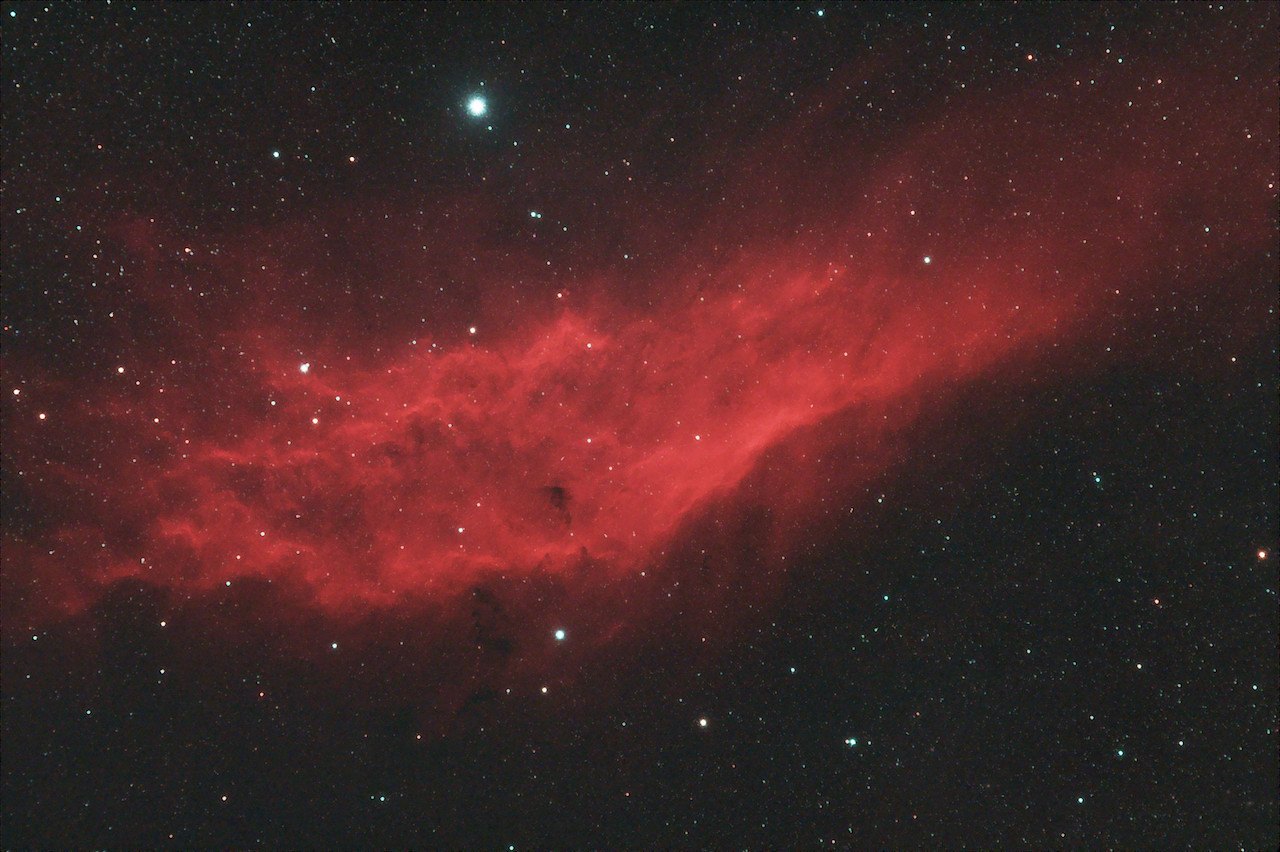 devotedman posted 11/10/2020 11:44 AM
Nice pics. What sort of equipment are you using?
tbkjcn posted 11/10/2020 13:36 PM
DM, thanks. Long time no chat...
I'm using a William Optics Z73 430mm focal length scope, on a HEQ5 equatorial mount being guided with a ZWO 120mm guide scope and 1.2 megapixel mono camera. The imaging camera is a ZWO 071MC-Pro cooled APS-C color camera. Tying it all together is the ASI AirPro connected via Wi-Fi to my iPad to control it all.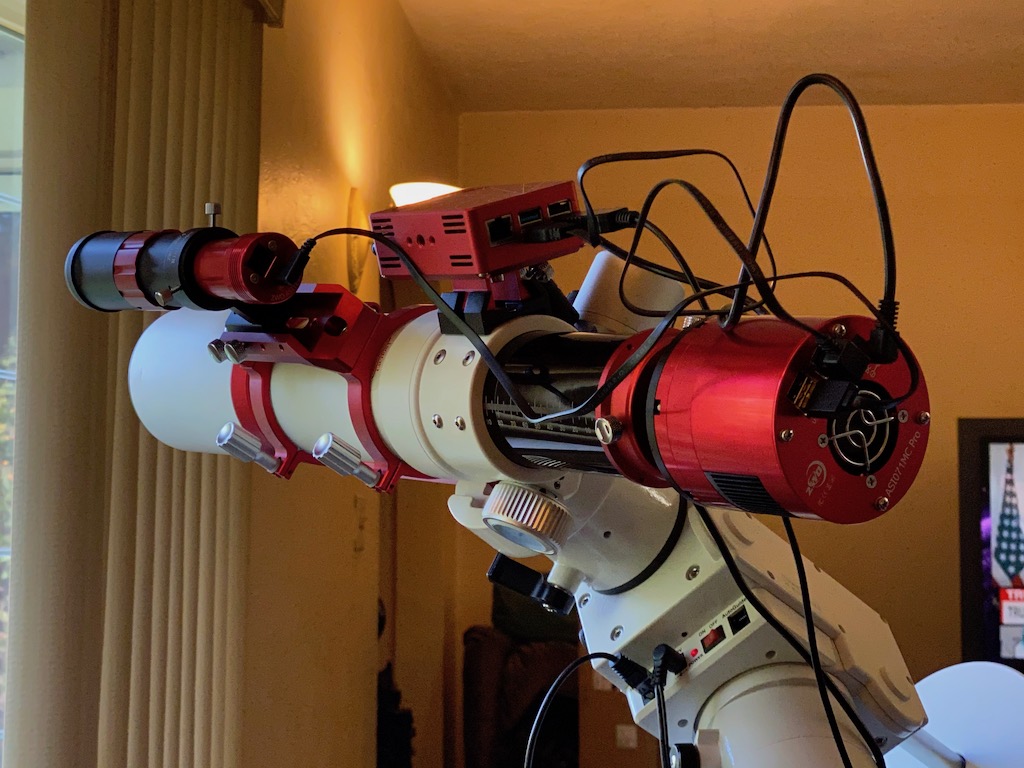 Not in the picture (taken during the day in the living room while I was trying to figure out how to focus a camera you can't look through) are the field flattener and filter drawer that I just added in the imaging train a couple weeks ago.
[This message edited by tbkjcn at 1:41 PM, November 10th (Tuesday)]
devotedman posted 11/10/2020 20:32 PM
Very nice. I'm playing with a pretty new Celestron NexStar 6se and an asi 224mc. How long can you guide before stars aren't round? I can get about 30 secs on a Neustadt mount. Also, looking at upgrading soon. :)
tbkjcn posted 11/11/2020 07:24 AM
Nice scope. 6 inch? That's around f/10, no? That's got to be pretty challenging for photos. At some point maybe in a year or so I'll be looking for something in the 1,000mm range. I considered a Cass like yours, they're nice and compact for the focal length, but decided that not only will it magnify the image, it will magnify my mistakes

Besides, I haven't begun to exhaust what I can see yet.
Unguided, I was doing good to get 2 minute subs, prolly 90 seconds to be safe. When I went guided, I can consistently get 5 minutes. Both the pictures I posted are 5-minute subs. I haven't tried to go longer than that, because at 5 minutes the stars start to get blown out, even with the Ha/OIII filter. I suspect that if I were doing true narrowband I could go 10 minutes with no trouble, but then I'd have the trouble of re-integrating 3 or 5 B&W images back together to get color

. Guiding changed the game for me. That and the ASIAir to run everything.
Would love to see some of your pics if you have any to share. I enjoy looking at other's work to see where I can do better, or just to get ideas for the next time I can get out.
[This message edited by tbkjcn at 7:25 AM, November 11th (Wednesday)]
Pages: 1 · 2 · 3 · 4 · 5 · 6 · 7 · 8 · 9 · 10 · 11 · 12 · 13 · 14 · 15 · 16 · 17 · 18 · 19 · 20 · 21 · 22 · 23 · 24 · 25 · 26 · 27 · 28 · 29 · 30 · 31 · 32 · 33 · 34 · 35 · 36 · 37 · 38