SurvivingInfidelity.com
®

> I Can Relate

You are not logged in. Login here or register.
Betrayed Menz Thread-Part 33
Pages: 1 · 2 · 3 · 4 · 5 · 6 · 7 · 8 · 9 · 10 · 11 · 12 · 13 · 14 · 15 · 16 · 17 · 18 · 19 · 20 · 21 · 22 · 23 · 24 · 25 · 26 · 27 · 28 · 29 · 30 · 31 · 32 · 33 · 34 · 35 · 36 · 37 · 38 · 39 · 40 · 41 · 42 · 43 · 44 · 45 · 46 · 47 · 48 · 49 · 50
SaddestDad posted 3/12/2019 19:07 PM
Lol that's amazing. On that note, maybe that rumor he mentioned isn't so inconceivable after all...
Notthevictem posted 3/12/2019 20:15 PM
Yup, tubing on slow moving river, no rapids. Totally relaxing. First 5 mins you feel like you should be doing something then 5 min's later it's a relax decompression fest.
[This message edited by Notthevictem at 6:41 AM, March 14th (Thursday)]
Butforthegrace posted 3/15/2019 14:31 PM
Okay, gents, it's Friday. In my frozen tundra part of the nation, a couple of days of warm gentle rain, followed by a day of warm sunshine, has the roads all cleared up, and the roof too. Lots of wet basements in the area, but gratefully mine is not among them. Fixing to enjoy some of our area's amazing craft brews tonight, and, if lucky, a roll with the wife.
steadychevy posted 3/15/2019 17:48 PM
Happy Friday, gents. No beer for me. I don't have any in the house and it's too far to go get some. Hope Friday is a lucky night for BFTG.
Cephastion posted 3/15/2019 21:58 PM
I'm reading and lurking,I guess but not really posting much content on here tonight. I just read a couple of things that got posted on here today and I also looked back at some posts from a year ago...
If this is progress, I think I liked it better when i was still back behind where I've "advanced" and gotten to by now in some ways...
Back THEN I was still looking for answers...
Now I can say that I have gotten a very great deal of answers, to certain things at LEAST, so that's not the issue...
I'm just not sure what to actually DO with some of what all I now know i guess...
Notthevictem posted 3/16/2019 18:57 PM
You could...
write a book?
Get a degree in psychology?
Become a hitman and hunt down cheating spouses in your spare time to keep your skills sharp?
Compose music?
Write and sell cards?

Notthevictem posted 3/16/2019 18:59 PM
I guess I don't understand why you feel you NEED to do anything with the knowledge.
I mean I KNOW how to hit the water when I take a piss, but I haven't used that knowledge purposely in decades.
[This message edited by Notthevictem at 6:59 PM, March 16th (Saturday)]
Cephastion posted 3/16/2019 19:27 PM
I kinda like how Marty McFly confronted his 1950's "Dad" to get him to get past himself and do what he should have done all along.
I also wish that his "dad" would have performed a brass knuckles "skillet lobotomy" or castration on Bif.
If that would be a legal occupation...then yeah, I think I would be seriously into that.
Why don't superheroes ever fight THAT kind of crime, anyway?
The closest I can think of was the third Iron Man installment when he went after his fiance's newfound "flame" and also kinda saved her from herself. And they weren't even married in that one.
I wouldn't mind being a Christian kind of non-lethal "Punisher" that specializes in putting wrong things right somehow...
stolenyears posted 3/16/2019 20:37 PM
I hope the Friday night luck was successful BFTG! We celebrated March 14 in fine fashion, and my wife even got the steaks and had the marinating when I got home. Hope that holiday gets more widespread, especially for all of us on this thread.
Gorgeous day here for some spring yard work. Went to Total Wine and sampled wine and spirits and caught a buzz...yikes! Maybe I should eat before I go...
Tred posted 3/21/2019 13:13 PM
I'd be looking for somewhere with a lazy river.
We did that down the Shenandoah once. 6 hour trip with a cooler of beer in it's own tube. It was amazing, 6 hours of drinking and no one had to pee.
We just went down to New Orleans for my son's spring break, did some fishing and site seeing. On the way down we stopped in Chattanooga to break up the trip and got some excellent Ole Smoky Mango Habanero whiskey. That shit is good. Had to buy several more bottles on the way back as they don't sell it in the Virginia ABC stores. Now I'll have to find more reasons to make the drive down to Tennessee...
tbkjcn posted 3/28/2019 12:46 PM
Well, I guess I won't need to explain that the water around here is WAY too cold for tubing..... Maybe it's up to 40, but thats iffy.... not even in my dry suit. My little jaunt is off, the pictures speak for themselves.
Last night, about 3 blocks from the parking garage, a kid half a car length in front of me, on my right, decided he really really needed to cut across my lane to make a left turn abut 10 feet from the intersection.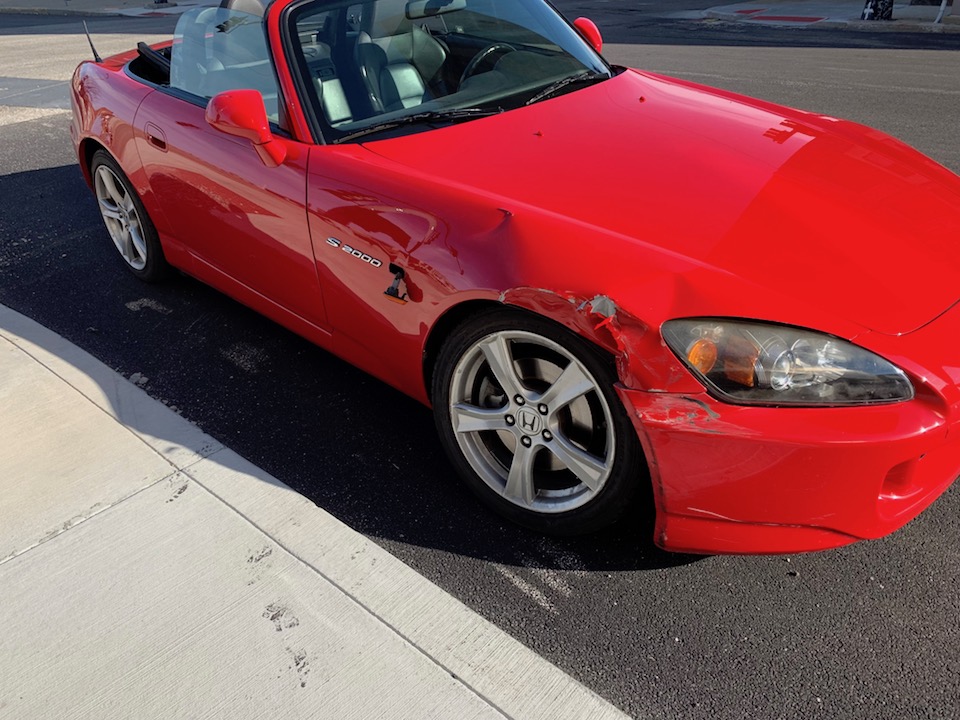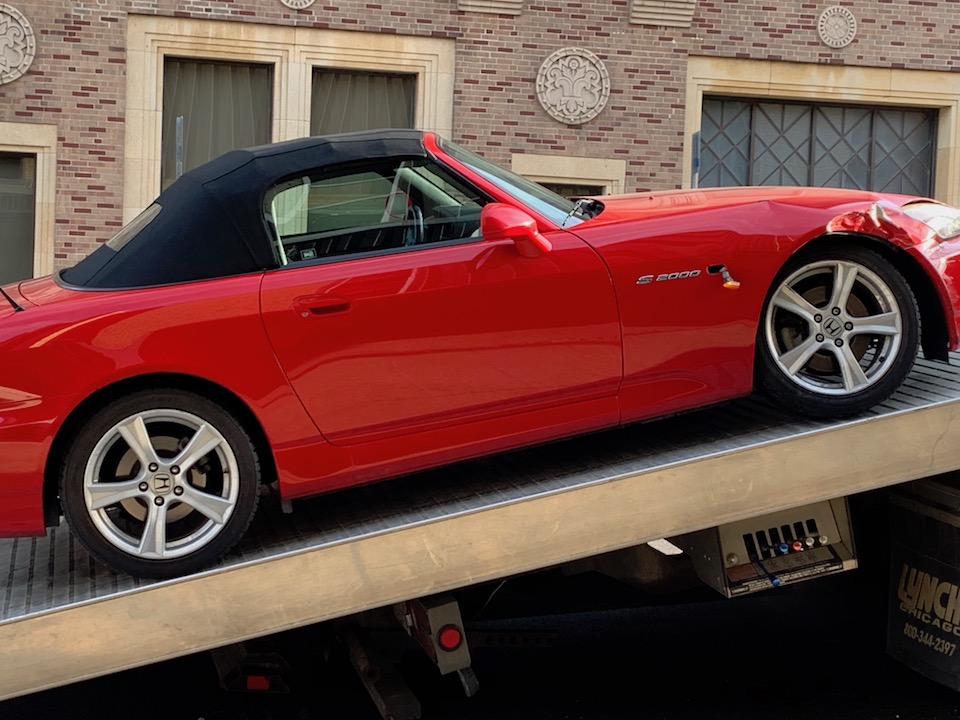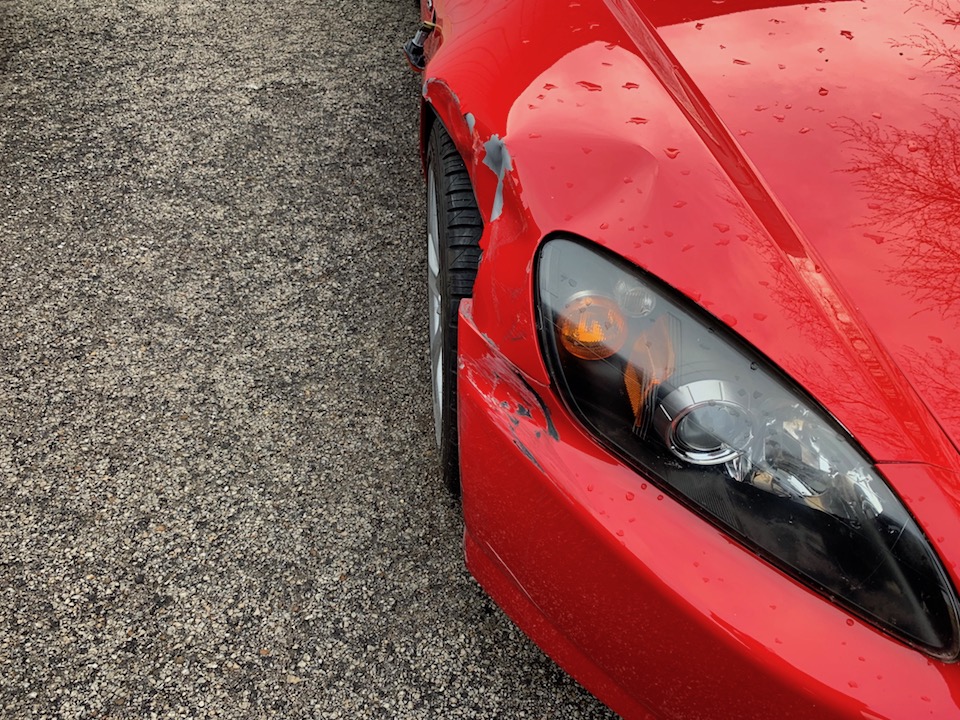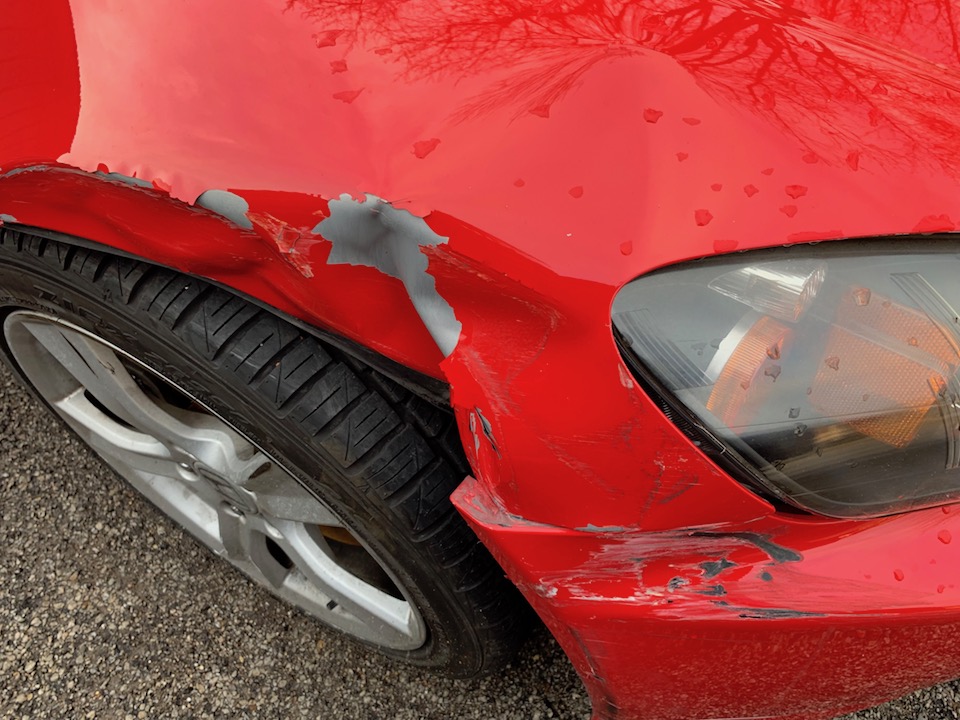 The front wheel is only still attached to the car by the brake caliper. The fender and bumper are obviously trashed, I just hope it didn't get into the frame, or if it did, it's only the front sub-frame. It's at my preferred body shop, although SF wanted me to take it to "one of their preferred, local, certified, no-hassle" body shops. I made them tow it 35 miles back home, where there is a most excellent craftsman who will restore it to it's original perfection (minus the body panel VIN tags, which will cost me about 4 grand in resale value, if I ever sell it (not bloody likely)). But he can't touch it until SF comes to look at it, and their entire computer system is apparently down and they can't enter any claims this morning.
Gettingoveritall posted 3/28/2019 12:52 PM
Ouch! That sucks tbk!
I hope you get it back soon.
Notthevictem posted 3/29/2019 07:46 AM
That's what you get for not driving a tank. Shoulda bought a M1 Abrams.
tbkjcn posted 3/29/2019 11:15 AM
That's what you get for not driving a tank
That's not my every day car. My regular car may not be a tank, but it's a nice generic CRV. Which happened to have developed an annoying problem with one of the door locks that stripped a plastic gear and makes a horrible grinding noise as it tries over and over to lock the back door. A problem which means I have to disassemble the door to remove and replace the latch mechanism. Which has to wait for a nice weekend to tear into. A problem which caused me to say to myself "Hey, its a nice day, you just got the S out from under its winter cover last weekend. You know, you could drive that today and not have to listen to that screeching noise from behind your head every time you pull away from a stop light....."
Still waiting on the adjuster to make it to the body shop and give them the go ahead to start taking it apart. At least the owner did offer to make room in his shop to store it inside instead of on his lot, "so it doesn't have to sit in the rain."
*Sigh*
Notthevictem posted 3/29/2019 11:21 AM
Well I guess I can't be too upset about you not buying a tank what with the crv and all.
WornDown posted 3/30/2019 02:20 AM
Ugh. That sucks.
I hope you're able to put it all back together.
sisoon posted 3/30/2019 16:17 PM
Sorry that happened, tbkjcn. I'm also sorry you've had enough experience with this sort of thing to know a craftsman.
Nothing much going on here. I just got a new phone that I fear isn't as loud as my old one. That may make me send it back.
tbkjcn posted 3/30/2019 21:03 PM
sorry you've had enough experience with this sort of thing to know a craftsman
It's pretty rural down here, sisoon. It's not a question of
if
you're going to hit a deer, but when and how many. One of my fellow "Old Guyz with Convertiblz" who hunts says "at least the ones I get with the truck don't cost me a tag."
As for the "Craftsman", the first time I used this small body shop was back in the early 90's. My first car of my adult money-making life was a POS Dodge Omni, silver over grey. Rear ended a girl on the interstate in the rain when someone merged in front of her and I hydroplaned into the back of her boat-a-matic. Took it thereon a co-workers recommendation and because it was 6 blocks from where I worked as a code monkey at the time. Stopped by one day to find him getting ready to paint the new body panels. But first he took the old ones into the paint booth and masked off successive stripes and painted them, adjusting his paint mixture to match the faded paint on the old panels. For a POS Omni. Gone back there ever since when I've needed metal fixed.
I hope you're able to put it all back together.
I am pretty sure it will be. I just hope the insurance adjuster makes it out there Monday. Both the shop owner and I are getting antsy. I think the chances of it being totaled are less than 10%. Based on a quick search the only comparable S around here is a yellow one (not my style) in Chicago thats 2 years older and $2K more than I paid three years ago. I would challenge the adjuster to find another low-milage 08 in a four state radius thats selling for less than what I paid -- values are going up. Saw one on auction on Bring a Trailer. A 01 or 02, I forget, with like 10k miles. It went for $70,000. Thats just crazy money. The sad thing is it will probably never see any more miles.
ETA: I see theres a blue '08 listed in downers grove for not a bad price, not sure how I feel about the color. But its had mods and that pretty much crosses it off my list.
[This message edited by tbkjcn at 9:10 PM, March 30th (Saturday)]
Tred posted 3/31/2019 13:43 PM
Those S2k's are sweet. My mid life crisis is a clearwater blue 2012 XLE Camry hybrid. Gets 40 miles to the gallon. Chicks dig it.
Notthevictem posted 4/4/2019 10:04 AM
If I want a trans am, is that a midlife crisis?
Pages: 1 · 2 · 3 · 4 · 5 · 6 · 7 · 8 · 9 · 10 · 11 · 12 · 13 · 14 · 15 · 16 · 17 · 18 · 19 · 20 · 21 · 22 · 23 · 24 · 25 · 26 · 27 · 28 · 29 · 30 · 31 · 32 · 33 · 34 · 35 · 36 · 37 · 38 · 39 · 40 · 41 · 42 · 43 · 44 · 45 · 46 · 47 · 48 · 49 · 50