SurvivingInfidelity.com
®

> Wayward Side

You are not logged in. Login here or register.
Trying new things
LifeDestroyer posted 8/21/2020 21:24 PM
So I decided to try painting. It's not the usual, paint an image kind painting. I found these different techniques called Dutch Pour and Pour Painting. The trio is a Dutch pour where I used a blow dryer to move the paint around. The tiny canvas, I just moved the paint around. The two small canvases were actually done by my daughter! It's really fun. I plan on creating another trio, triptych, this weekend. I didn't really like the way the first one came out.

**Ok so I messed up on the URL. I will try to figure it out again.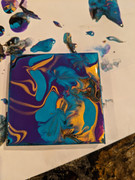 >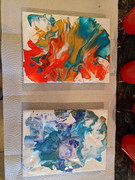 >
[This message edited by LifeDestroyer at 11:01 PM, August 21st (Friday)]
Buster123 posted 8/21/2020 22:21 PM
No stop sign, the paintings look great ! are you planning to sell them online ?
LifeDestroyer posted 8/21/2020 23:01 PM
Thanks, and maybe one day when I actually get better and someone is interested in them. For now, I'm just enjoying learning the different techniques and trying them out.
BraveSirRobin posted 8/22/2020 00:53 AM
I particularly like that second one. I'm glad you've found something creative that you enjoy!
bewuzzled posted 8/22/2020 01:22 AM
Nice!

landclark posted 8/22/2020 07:59 AM
Thatís awesome. That second one reminds me of Aladdin (apparently I have Disney on the brain).
WilliamM posted 8/22/2020 13:54 PM
I really like the second one. I would hang it.
JBWD posted 8/22/2020 14:10 PM
The consensus is on Number 2- But I love ALL of them!
Keep painting!
Every creative act is another movement of honest bravery!
LifeDestroyer posted 8/23/2020 11:53 AM
I can pour over the first, trio, and paint a new one but I don't know if I want to. It was my first attempt at a large piece. Even though it didn't come out how I was hoping, it was my first try. I kind of want to keep it so I can look at it and think "I tried something brand new!"
I just don't know where I would hang it up.
sundance posted 8/23/2020 12:22 PM
I love art!! Nice job, and what a fun thing to do with your daughter :)
JBWD posted 8/23/2020 13:45 PM
Like most other things, the value is in the doing! So if you want to work on them again, feel free, but donít worry about outcomes- Sound familiar?
LifeDestroyer posted 8/23/2020 13:53 PM
That's why I don't want to paint over the first one. It wasn't the outcome that I was hoping for, but it's still pretty in its own way.
thatbpguy posted 8/23/2020 21:25 PM
I like #2 & #3. What do they mean to you?

LifeDestroyer posted 8/23/2020 22:04 PM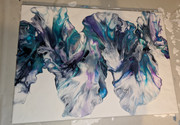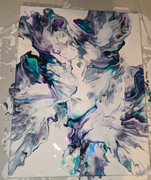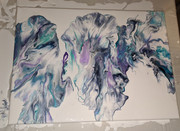 Here's my redo of the trio.
I was so happy when I was done. I love the way this one turned out! I'm glad I tried again.
[This message edited by LifeDestroyer at 10:07 PM, August 23rd (Sunday)]