SurvivingInfidelity.com
®

> Fun & Games

You are not logged in. Login here or register.
The S.I. Official Cookbook Thread
Pages: 1 · 2
SI Staff posted 8/30/2015 12:36 PM
We are pleased to announce the official Surviving Infidelity Cookbook!!!
Everyone is encouraged to contribute their favorite recipes! We do however ask that you also include the number of servings, prep time, cook time, etc., and please be specific, if you post add one cup of onions, let us know if that is chopped, minced or whole. We ask that you please included any nutritional facts, if you have them.
And if you have any food or wine pairings, we would love that as well.
All recipes submitted will become the property of Survivinginfidelity.com, a 501(c)(3) nonprofit organization.
Please include which category you feel your recipe belongs in.
Appetizers;
-Hot
-Cold
-Seasonal
Salads;
Main Dishes;
-Beef
-Poultry
-Fish
-Casseroles
Soups and Stews;
Pastas;
-Hot
-Cold
Sides;
-Vegetables
-Rice/grains/beans
Vegetarian;
Breads;
Breakfast;
- Brunch
Deserts;
-Cakes
-Pies
-Other
Drinks;
-Alcoholic
-Non Alcoholic
-Smoothies, Juices & Spritzers
Unagie posted 8/31/2015 00:40 AM
I will start. For anyone looking for no carb no sugar diets. I was starving for pasta on this diet and found this wonderful recipe for pasta with meat sauce.
GLUTEN FREE PASTA
PREP TIME
30 mins
COOK TIME
12 mins
TOTAL TIME
42 mins

Serves: 4
INGREDIENTS
1½ cups blanched almond flour
1½ cups tapioca flour (also known as tapioca starch) plus ¼ cup for dusting
1½ teaspoons Himalayan Salt
2 large eggs
4 egg yolks (total egg mixture equals ¾ cup)
2 Tablespoons of coconut oil (added to boiling water)
4 quarts of water
olive oil for drizzling onto cooked pasta (about 2 teaspoons)
INSTRUCTIONS
1. Place water and coconut oil in a large pot. Turn heat on med-high heat and bring to a boil.
2. In a large mixing bowl, whisk together almond flour, tapioca flour and salt.
Make a well in the center of the flour and add eggs. Whisk eggs with a fork and slowly incorporate flour. Roll dough into a ball.
3. Sprinkle a large cutting board with a tablespoon of tapioca flour. Knead dough on floured surface for 5 minutes. If dough is too wet, add a bit of tapioca flour. The dough should not stick to your hands and has the texture of play dough.
4. Separate dough into 4 equal sized balls, place 3 balls in a bowl and cover with a dry towel or plastic wrap so it does not dry out.
5. Sprinkle tapioca flour onto your surface and place a ball of dough on top. Sprinkle ball with more tapioca flour. Using a wooden rolling pin, roll your ball of pasta out to the size of a 3 inch disk. Flip the pasta and sprinkle with more tapioca flour. If it sticks to your rolling pin, sprinkle with more tapioca flour. Continue to roll, flour and flip. Repeat this step until your pasta is ⅛ inch thick or less. You will now have a large irregular sized square. Using a pizza cutter, cut uneven edges off of pasta and set aside. Cut pasta into ¼ inch strips. Set aside on a large plate.
6. Repeat step 4 with other 3 balls of pasta.
Gently pick up a quarter of the pasta and add to pot of boiling water. Cook for 3 minutes. Gently remove pasta with a pasta claw and place into a stainless steel colander. Drizzle with olive oil and gently toss.
7. Repeat step 9 with remaining pasta.
Unagie posted 8/31/2015 00:42 AM
Everyone has their preferences for meat sauce. Here's mine.
Meat Sauce
Prep time
15 mins
Cook time
50 mins
Total time
1 hour 5 mins
This sugar-free, meaty sauce makes a big batch. Easy to freeze for a future use!
Serves: 15 Cups
Ingredients
1½ pds ground beef
3 teaspoons minced garlic
2 cans (29 oz each) tomato puree
2 cans (14.5 oz each) petite diced tomatoes, with juice
¾ cup water
2 teaspoons salt
2 teaspoons lemon juice
2 Tablespoons olive oil
2 teaspoons oregano
2 teaspoons basil
1 teaspoon thyme
1 teaspoon crushed red pepper
Instructions
In a large saucepan, brown the ground beef along with the garlic. Drain.
Add in the rest of the ingredients and bring to a low boil, stirring often. Once the sauce is heated through and at a low boil, reduce the burner temperature to low and simmer uncovered for 45 minutes.
mamazen posted 9/4/2015 17:43 PM
Category: Drinks

Mamazen's Green Smoothie Lesson

I have had this almost every morning for a few years. Lost 30 pounds. You need a high horsepower blender (e.g. Vitamix). With lesser blenders (even a Ninja), you'll get little chunks of kale in it (but it still tastes good):
General ingredients for a green smoothie:
Ripe tasty fruit
flavorers
fat source
other stuff
greens
liquid thinner
The fat is important because it delays absorption of all the sugars, and keeps you full.

Here's my default:

FRUIT: put in first, then add the other stuff:
1 small ripe banana
1 mango
(other fruit if I have it: pineapple chunk, or a kiwi, or a handful of berries, etc)
FAT
1 heaping tablespoon high-fat yogurt (here in Canada we have 9%),
or----a ripe avocado
FLAVORERS
2 inch knob of fresh ginger, peeled and sliced (this is a lot)
many many fresh mint leaves (like, >20)
OTHER STUFF THAT'S GOOD FOR YOU
1 tablespoon chia seeds
half teaspoon of matcha
half teaspoon of spirulina
GREENS
2-3 leaves kale, or collards, or chard
green leaves of bok choy, if I have it
bitter-er greens if I have them (beet, dandelion), not too many
LIQUID THINNER
I use 3/4 of a small bottle of coconut water (I drink the rest). You can use plain water obviously. NO JUICE; it'll make it too sweet. You can try almond milk for a bit more protein but I've never tried it so can't guarantee results!

Layer all in order listed.
Start on low speed till liquefied, then crank 'er up so it sounds like a jet taking off, until you're happy with the consistency (10 seconds or so).
Makes a large (ice-tea size) glass. It's sweet! Can save some in the fridge for up to a day if you want.
Clean the blender right after, by filling half-full with hot water and 1 drop of dishwashing liquid, then let -er rip for 10 seconds. Rinse. Work-free.
looking forward posted 10/18/2015 15:49 PM
Dessert: Cake
Carrot Cake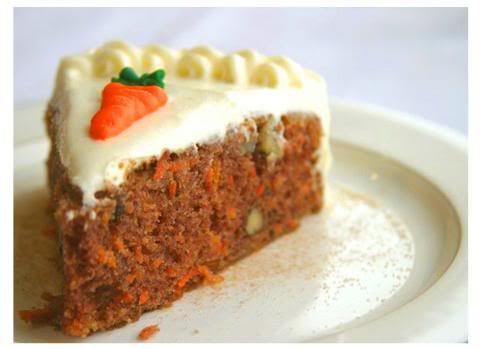 Source: Photobucket
Sift together in very large bowl:
2 cups flour
1 tsp baking soda
2 tsp baking powder
1 tsp salt
2 tsp cinnamon
2 cups sugar
In small bowl: Beat 4 eggs well. Blend in 1 cup vegetable oil. Beat until fluffy.
Then add to dry ingredients above.
Add to above:
2 - 3 cups grated raw carrots
1 cup raisins (Thompson seedless/dark Sultana)
1 cup finely chopped walnuts (optional)
Mix batter (VERY THICK AND HEAVY) THOROUGHLY by hand.
Pour into wax paper lined 9 x 14 pan.
Bake 50 - 60 minutes at 325 degrees.
Cool before icing.
ICING:
1 8 oz. pkg cream cheese
1 tsp vanilla
1/3 + cup butter (add more if you want ~ I do!)
1 cup + icing sugar (add more if desired, taste test first!)
Let butter and cream cheese stand at room temperature at least one half hour.
Cream together.
Add vanilla and icing sugar.
Moisten gradually with milk until desired consistency is reached.
For fluffy icing, use electric beater.

Seniors' Carrot Cake (Softer texture)
1 ½ cups flour
1 1/4 cups white sugar
1 ½ tsp baking soda
1 ½ tsp cinnamon
2/3 cup vegetable oil
2 eggs
½ tsp vanilla
1 cup crushed pineapple, drained (14 oz can = 1 cup)
1 large jar Junior Baby Food Strained Carrots (or 2 small jars)
Optional: 1 cup raisins (Thompson seedless/dark Sultana)
1 cup finely chopped walnuts
Mix dry ingredients.
In a separate bowl, beat eggs, add carrots, vegetable oil and vanilla.
Mix thoroughly.
Add to dry mixture.
Stir in pineapple.
(Add raisins and/or walnuts)
Bake in 9x9 pan @ 350 degrees for approximately 45 - 50 minutes.
ICING: see original recipe or here is an alternative (healthier, no doubt!)
4 oz cream cheese
1/4 Becel margarine
½ tsp vanilla
Mix with 2 cups icing sugar.
[This message edited by looking forward at 4:11 PM, October 18th (Sunday)]
looking forward posted 10/18/2015 15:57 PM
Dessert: Other
Chocolate Macaroons
Chocolate Macaroons
1 cup white sugar
4 tbsp butter (¼ cup)
¼ cup milk
In a large pot, bring these
ingredients to a boil, then
add:
1½ cups oatmeal
½ cup coconut
1½ tsp vanilla
½ cup cocoa
½ tsp salt
Mix all ingredients
thoroughly
Drop onto waxed paper
Chill
Note:
These tend to be gooey and
sticky, so I now shape the
macaroons into balls and
roll in icing sugar
Yield: approx. 20-24

Source: Photobucket
[This message edited by looking forward at 4:10 PM, October 18th (Sunday)]
looking forward posted 10/18/2015 15:59 PM
Sides: Cheese Sauce
Cheese Sauce ( 1 cup)
2 tbsp butter
2 tbsp flour
1 cup milk
seasonings (Original Mrs. Dash, Italian mix, pepper
Worcestershire sauce
cheddar cheese, grated (medium)
FIRST, YOU HAVE TO MAKE A ROUX, FOLLOWED BY A WHITE SAUCE
Roux*
This is a sauce thickener.
1. Melt butter over low heat. (Wooden spoon for stirring is a help.)
2. Remove from heat and blend in flour.
3. Return pot to burner and cook for low heat, stirring until mixture is smooth and bubbly.
White Sauce
4. Remove from heat. Stir in milk. Bring to slow boil, stirring constantly. Boil 1 minute.
Cheese Sauce
5. Add choice of seasonings, several drops of Worcestershire sauce.
6. Add grated cheddar cheese (small bar) and melt into sauce.
Sauce will thicken.
If sauce is not to served immediately, it should be covered with a tightly fitting lid to prevent a skin from forming on top.
Keep on low heat.
*Thin Sauce = like coffee cream ~ for creamed vegetables and soups
1 tbsp butter 1/4 tsp salt
1/2 to 1 tbsp flour dash of pepper
1 cup milk
Medium Sauce = like thick cream ~ use for creamed and scalloped dishes
2 tbsp butter 1/4 tsp salt
2 tbsp flour dash of pepper
1 cup milk
Thick White Sauce ~ like batter ~ use for croquettes and soufflés
1/4 cup butter 1/4 tsp salt
1/4 cup flour dash of pepper
1 cup milk

looking forward posted 10/18/2015 16:05 PM
Dessert: Cake
Peach Upside Down Cake


source: Photobucket
Batter
¼ cup butter
¾ cup white sugar
1 egg
1¼ cup flour (all purpose/cake)
2 tsp baking powder
¼ tsp salt
½ cup milk
½ tsp vanilla
1. Cream butter & sugar
2 Add egg & mix well
3. Sift flour, baking powder & salt together
4. Add alternately with milk. Blend thoroughly
5. Add vanilla & mix
Topping
¼ cup melted butter
½ cup brown (yellow) sugar
14 oz canned peach slices, drained
1. Mix melted butter & sugar
2. Pour into 8" square or round DARK METAL pan
3. Arrange fruit on top
4. Place paper towel over fruit to absorb moistness.
Pour batter over fruit and spread evenly.
Bake at 350, 45 – 50 minutes.
Cool slightly.
Invert on cake pan while still warm or serve directly from pan.
Garnish with whipped cream, ice cream, or with a sauce made from the fruit syrup.
[This message edited by looking forward at 4:05 PM, October 18th (Sunday)]
looking forward posted 10/18/2015 16:09 PM
Main Dish: Casseroles
Pork and Apple Meatloaf
Serve this as a hot starter or a hot/cold lunch.
Serves 6 to 8
1 onion, grated
1 tbsp olive oil
1 lb ground pork
½ lb cooked white rice (about 2 oz uncooked)
2 green apples, peeled, cored, and grated
2 medium eggs, beaten
2 tbsp ketchup
Generous dash of Worcestershire sauce
Generous pinch freshly grated nutmeg
1 heaping tsp dried Italian herbs
Salt and plenty of freshly ground black pepper
Preheat the oven to 375 F.
In a skillet, fry the onion in the olive oil for 3 to 4 minutes until soft.
In a large bowl, combine all the remaining ingredients, add the onion, and thoroughly mix together with your hands or a wooden spoon.
Butter a 1 lb loaf pan, press the mixture into it, and bake in the centre of the oven, uncovered, for 1 ¼ hours.
Remove from the oven, allow to cool slightly, and then remove from the pan.
You can serve this warm or cold with a mixed salad.
It makes a great starter or a lovely lunch, and it's perfect fried in slices for breakfast.
It will keep for 4 to 5 days in the fridge.

looking forward posted 10/18/2015 16:15 PM
Dessert: Cake
Saucy Hot Fudge Pudding Cake
1 cup all purpose flour
1 ½ cups sugar divided into ¾ cup each
2 tsp. baking powder
¼ tsp. salt
½ cup butter, melted
½ cup cocoa, divided into ¼ cup each
½ cup milk
1 tsp. vanilla
1 ½ cups hot water
Optional: ½ chopped nuts
Preheat oven to 350 degrees.
Combine in a mixing bowl:
flour, ¾ cup of the sugar, baking powder and salt.
Blend butter and ¼ cup of the cocoa.
Add to dry ingredients along with milk and vanilla.
Mix well with a fork.
Scrape into 9-inch square cake pan.
Combine remaining ¾ cup sugar, ¼ cup Coca (and nuts).
Sprinkle over batter.
Carefully pour hot water over all ~ DO NOT STIR!
Bake 40 - 45 minutes.
You may want to place a cookie sheet under the cake pan.
Sometimes the sauce overflows, especially if you use a little more water than what the recipe calls for.
Bon appetit!
Serve with whipped cream or vanilla ice cream.


Source: Photobucket
looking forward posted 10/18/2015 16:20 PM
Sides: Accompaniment for Roast Beef
Yorkshire Pudding


Source: Photobucket
1 cup sifted all purpose flour
1 tsp salt
2 eggs, well beaten
1 cup milk
1/4 cup drippings from hot roast beef
Make this batter at least 1 hour ahead.
Sift flour and salt together; combine eggs and milk, gradually stir into flour and beat until smooth.
Let stand until roast is done.
Remove roast from oven and increase heat to 450 degrees.
Pour hot drippings into preheated 9-inch square pan.
Pour batter into pan, and bake 15-20 minutes while you make gravy and carve the roast.
Cut into squares, and serve at once with roast beef.
Individual greased muffin tins may be used instead.
Divide batter into equal parts.
Serves 6.
Popovers


Source: Photobucket
1/2 cup flour
1/4 tsp salt
1/2 milk
1 egg
Make popovers after roast is done.
Heat oven to 450 degrees.
Combine all ingredients and beat just until smooth.
(Overbeating will reduce volume).
Pour into well-greased muffin cups, 3/4 full.
Bake 25 minutes.
Lower oven temperature to 350.
Continue baking 15-20 minutes.
(If not baked long enough, they will collapse).
Yield: 4 popovers

looking forward posted 10/18/2015 16:33 PM
Dessert: Cookies
Swedish Butter Balls
A melt-in-your-mouth delight!
1 cup butter, softened
½ cup sifted icing sugar
1 tsp vanilla
2 ½ cups cake & pastry flour (or 2 ¼ cups all-purpose flour)
1 cup finely chopped pecans
Icing sugar
CREAM butter, icing sugar and vanilla together thoroughly.
ADD flour. Mix well. Stir in nuts.
SHAPE dough into 1" balls. Place on ungreased baking sheet.
BAKE at 400 degrees for 8-12 minutes or until very light golden.
COOL on racks. Roll in sifted icing sugar.
Yield: approx. 4 dozen cookies

[This message edited by looking forward at 4:38 PM, October 18th (Sunday)]
looking forward posted 10/18/2015 18:00 PM
Dessert: Other
Old-Fashioned Rice Pudding
My Dad's favourite!

Source: Photobucket
¾ cup water
¼ tsp salt
¾ cup long grain instant white rice
1 ¼ cups milk
1 egg yolk, slightly beaten
1/3 cup sugar
1/3 cup raisins
¼ tsp cinnamon
1/8 tsp nutmeg (optional)
1 tbsp butter
Bring water and salt to a boil. Stir in rice. Cover, remove from heat and let stand 5 minutes.
Blend milk and egg yolk together, then stir into rice.
Add sugar, raisins, cinnamon,( nutmeg), and butter. Mix well and bring to a boil, stirring constantly.
Cover and remove from heat. Let stand 1 hour. Stir just before serving.
Serve warm or cold.
Makes 4 servings.
looking forward posted 10/18/2015 18:28 PM
Main Dish
Stuffed Green Peppers

3 large green peppers
1 cup boiling, salted water
½ lb ground beef
1 can (8 oz) tomato sauce
½ cup coarse dry bread or cracker crumbs
1 tsp salt
¼ tsp pepper
1 tbsp chopped onion
Variation: Add spices to mixture, e.g. Italian herbs, Mrs. Dash
Heat oven to 350 degrees.
Cut around the stem of each pepper and remove.
Wash outside and inside.
Remove all seeds and membranes.
Cook peppers in boiling salted water 5 min.
Drain.
Mix rest of ingredients.
Stuff peppers lightly with mixture.
Stand upright in small baking dish.
Bake covered 45 min.
Uncover, and bake 15 min. more.
2-3 servings
Clarrissa posted 10/27/2015 21:08 PM
Main Dish:
Chicken Casserole
3 cups cooked chicken (either canned or diced chicken breasts)
1 can cream of chicken soup
1 can cream of celery soup
1 cup chicken broth (I prefer low sodium since it doesn't taste as salty)
1 box chicken or herb stuffing
1 can corn (optional)
1/2 cup melted butter (approx. 1 stick)
1 cup shredded cheddar cheese
In large bowl, combine chicken, both soups, broth and corn. Mix well. In separate bowl combine stuffing and melted butter. Combine contents of both bowls and pour into 9X13 casserole dish and bake at 350 for 30 minutes. Remove from oven and top with shredded cheese.
I got this recipe online but tweaked it a little, cutting the broth by half and substituting low sodium for regular and adding the corn. Serves 6.
Clarrissa posted 10/27/2015 21:19 PM
Soup: Hot
Crockpot Potato Soup
30 oz. frozen hashbrowns
42 oz. chicken broth
1 pkg. cream cheese
1 can cream of chicken soup
Place all ingredients except cream cheese in crockpot. Cook on low 5-7 hours. Add cream cheese 1 hour before serving.
*Note: you may want to add the cream cheese earlier since I've found it takes a while to melt completely, even after cutting it into chunks to speed things along.
[This message edited by Clarrissa at 9:21 PM, October 27th (Tuesday)]
TheCaterpillar posted 2/21/2017 09:33 AM
Soup
Sweet Potato and Cumin Soup
Serves 4-6
Suitable for freezing.
Takes approx 40minutes
1 tbspn olive oil
1 yellow onion (diced)
2 cloves garlic (minced)
1 lb white potatoes (peeled and diced)
12oz sweet potato (peeled and diced)
2 pint veg stock
2 heaped tspn cumin seeds or ground cumin
1 tbsp lemon juice
salt and pepper to taste
-Fry the onion, garlic and cumin (I tend to use whole cumin but ground works fine too) until the onion is soft amd translucent
-Dice the potatoes, add to the pan and cook for 5 min til lightly browned
-Add the stock, cover an simmer for 30 min.
-Blend, add lemon juice and season.
*Personal preference - if you plan on freezing it I would do so after blending but before adding the lemon juice, salt and pepper. Add the juice and seasoning when you defrost eaxh portion*
[This message edited by TheCaterpillar at 11:59 AM, February 21st (Tuesday)]
thatbpguy posted 5/3/2017 22:51 PM
Category: Appetizer Hot
OK, game fans, here is my perfect teriyaki chicken wings marinade:
1 bag of party wing pieces
1 cup of soy sauce (room temperature)
1 cup brown sugar
3 T of honey or Mirin
1 t garlic
2 t ginger
Mix marinade ingredients, add in and stir in chicken. Best to let sit in refer 10-24 hours (stir occasionally to keep chicken from glazing). Grill on charcoal (women use gas) to perfection.
BowTie posted 9/14/2017 15:27 PM
Cooking for one can be quite a challenge - especially if you have troubles with portion control. I found this lady's blog a source of inspiration.
Here's her "Lonely Girl Pancakes"
http://loveswah.com/2014/01/lonely-girl-a-single-serve-pancake-recipe/
Pancake Ingredients:
1/4 cup plain flour
1 tsp baking powder
1 tbsp caster sugar
1 tbsp flavourless oil (I used sunflower)
1/4 cup milk
1 egg
Pinch of salt
Optional extras:
Maple syrup
1 tbsp shredded coconut
1/4 cup of blueberries
Ice cream
Cheats Berry Sauce Ingredients:
1/4 cup frozen berries
1 tsp icing sugar
Instructions
Pancake Method:
Sift dry ingredients into a jug and mix.
In a separate bowl (I just use a mug), whisk together the egg, milk and oil until combined.
Add the wet ingredients into the dry and stir until well combined. If using additional flavourings, such as berries or coconut, add now and stir gently to combine.
Lightly grease a non-stick fry pan and heat to a medium temperature.
Making this mixture in a jug will make it easier to portion out the batter – make this to your preferred size. I made 5 pancakes about 10cm in diameter.
Cook until bubbles form on surface, flip and cook the other side until lightly browned.
Serve either with a garnish of extra berries and coconut and a drizzle of maple syrup, or see below for a Cheats Berry Sauce.
Cheats Berry Sauce Method:
Put frozen berries in a microwave-proof container, cover it with paper towel or a slightly askew lid. Cook on high for 30 seconds until hot and bubbling.
Add in icing sugar and whisk, combining the sugar and breaking down the berries into a sauce.
You can add a teaspoon of water and strain this if you want a smooth sauce, otherwise the whisk will sufficiently break the berries down to a thick and delicious sauce.

Notthevictem posted 9/28/2017 18:47 PM
I've got a great recipe for nachos if anyone is interested...
Pages: 1 · 2