Topic: N.F.L. Pigskin Picks - Week 5 Results - Week 6 Games

Miami and Oakland were the teams on a bye this week, but you came here to talk about football and there hasnít been football in Miami or Oakland for the last ten years.
As for this weekís Thursday night game, it was more of the same just a different victim as Green Bay treated us to another blowout as they crushed Minnesota.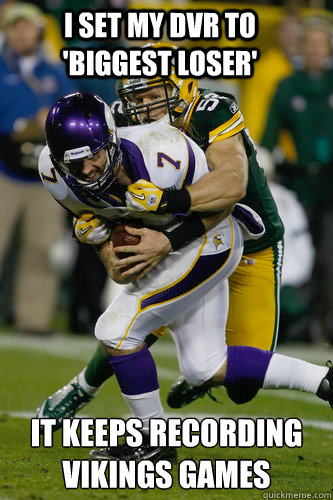 And in quick succession we find ourselves with no more unbeaten teams just five weeks into the season. Meanwhile Oakland and Jacksonville are still in the hunt for the O-fer award. For those not in the know, thatís the last team to get into the wins column. Will we see a team go 0-16, with Oakland and Jacksonville in the running we could see two.
Carolina found a way to win, be it the improbable punt return for a TD after the returner was interfered with, or well honestly Iím not sure how they did it. From running backs that have never played a down for the panthers and receivers who canít hold onto the ball to a quarter back who once had to be restrained because of his mobility and now seems to be tied to the pocket, somehow they got the W. Letís face it, Iím not complaining about that.
The Browns were victorious this week moving to .500 on the season. Browns fans, donít get too excited, you were playing the Titans. Those Eagles just seem to keep winning moving to 4-1. But save a win over Indianapolis Iím waiting for a real test for a team ranked near the bottom in defense, and 23rd in the league in rushing yards. Itís nice to have Jacksonville, Washington and St. Louis on your schedule early, Eagles fans prepare, real games are coming.
The Giants get another win on their seeming to be though as yet proven turn around. Iím all for Giants wins, but seriously, put the ball in Larry Donnellís hands, my fantasy team would be much appreciative of it.

After being one game from the Super Bowl two years ago the fall of the Falcons is one of the things that has most surprised me over the past season and a half. They were a team that finally put back to back winning seasons together, they finally got over their playoff choking ways under Matty Ice, and haven done so reverted to the falcons of previous years. Maybe itís something in the water, maybe itís opposing defenses figuring out the falcons offensive schemes, whatever it is they are only producing a football like substance in Atlanta these days, as likely to lose the game as win it in the final quarter.

The Saints, like the Falcons are another team that has seemingly forgotten how to win consistently. Even with top five passing yards and top ten rushing production they have dropped games to Atlanta, Cleveland and Dallas with wins over horrible Minnesota and Tampa Bay the only bright spots for a team that seems adrift.
I canít think of anyone happier for the bye week than New Orleans. Rest up boys, the schedule doesnít get any easier when you come back.
After scoring ten points to tie things up in the fourth quarter the tank ran dry for Houston in overtime as Dallas squeaked by improving to 4-1.
Could it be that Dallas is actually a contender this year? Their only loss has come at the hands of the 49ers, with wins over a gaggle of teams that are to put it kindly, a bunch of losers. Their upcoming schedule features plenty of division match-ups and mostly tough non-division opponents. Cowboys fans treasure week ten and eleven. Thatís when you face Jacksonville and enter your bye week because from where Iím sitting your season is about to begin if you are to truly be contenders.
Obligatory Tony Romo interception meme.

In other football news Buffalo gets by a banged up Megatron and the Lions, Indianapolis beats the Ravens, The Steelers get the W over Jacksonville and Peyton Manning puts up 479 yards as Denver beats Arizona.
The Cardinals had the mistaken notion in the first quarter that you can settle for taking a field goal for each Denver touchdown and still win. I havenít seen that work out for very many people. Know who you are playing and get to the end zone or go away empty handed because no matter what Peyton will drive the length of the field and put up six.
San Francisco Showed Alex Smith the door again as they beat the Chiefs. But seriously KC, you canít have every good thing happen to you right now.
Thereís not much to say about San Diego over the Jets, one it was the Jets, and two they pounded them to the tune of 31-zip. The last time I saw a beating that bad someone got caught between me and a box of fresh donuts. Just saying.
In a bid to silence those saying his time as a champion is passed Tom Brady led New England over the Bengals by the tune of 43-17.
Wins like a boss, still canít get a high five.

Onto the Monday night action where we find the Potomac Drainage Basin Indigenous Persons versus The Seahawks.
How's this for a frustrating hat trick: Percy Harvin had three touchdowns called back because of penalties.
"Well, the first one I was cool with," he said. "I was like, 'OK.' Then when the second one happened, I was like, 'Wow.' And then when the third one happened I just flipped my hands down. I couldn't believe it."
That aside the Seahawks did get the win although the game was much closer than I would have thought.

Onto the standings for this week.
Coming in first this week with 14/15 correct is sportsfan
Woo Hoo! Way to go, sportsfan!

Coming in second with 13/15 correct was L-dog with a closer but not over tie breaker score than MadeOfScars in third with 13/15, fourth was AJís MOM being chased by devastated 30 in fifth, tesla in sixth, and MissesJai in seventh. Closing out the top ten with a tie for eighth was Chria and purplejacket4, followed by ray-ray in ninth and Ascendant closing it out in tenth.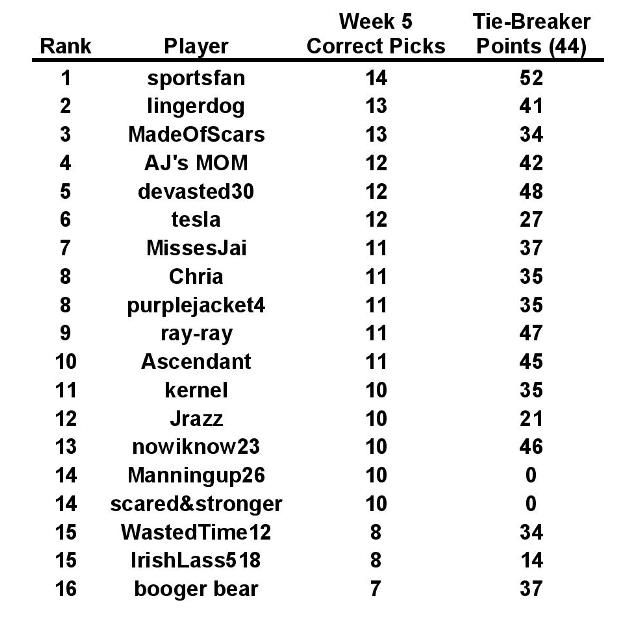 In the overall race for the non-existent trophy, devasted30 has amassed a comfy lead of five points.
Woo Hoo! Way to go, devasted30!

Donít worry itís a long season and with good picks itís still pretty much anyoneís game. purplejacket remains in second place from last weekís standings, while AJís MOM holds down third. In fourth is MadeOfScars, fifth ray-ray, sixth tesla and sportsfan in seventh. Chria is holding it down in eighth with Ascendant in ninth and L-dog slipping into the ten spot.

Itís been awesome to put on the commissioners hat this week but all good things must come to an end. Your regularly scheduled commissioner will be back at the helm kicking butt and taking names next week.
N.F.L.Games
Week 6
Thursday pick due by 11AM CT Thursday 10/9; Sunday/Monday picks due by 11AM CT Sunday 10/12.
Thursday, October 9th
7:30 PM CT
Indianapolis at Houston
Sunday, October 12th
NOON CT
Jacksonville at Tennessee
Baltimore at Tampa Bay
Denver at NY Jets
Detroit at Minnesota
New England at Buffalo
Carolina at Cincinnati
Pittsburgh at Cleveland
Green Bay at Miami
3:05 PM CT
San Diego at Oakland
3:25 PM CT
Chicago at Atlanta
Dallas at Seattle
Washington at Arizona
7:30 PM CT
NY Giants at Philadelphia
Monday, October 13th
7:30 PM CT
San Francisco at St. Louis Ė TIE-BREAKER GAME
Teams on Bye Week: Kansas City, New Orleans
Remember your tie-breaker everyone, it can be the difference between first and second, or eighteenth and nineteenth for that matter.

Have fun, everyone!
Good luck!
Jr. Commissioner L-Dog