Looks like we may have our first head coach firing coming up this week or soon at the very least, thanks to the big can of Whoop Ass Carolina opened up on Tampa Bay on Thursday night, allowing the Bucs to slink to 0-7. Word is Greg Schiano not only lost the game but has lost his team's respect big time (no wonder, as he's 1-12 in his last 13 games and is 7-16 overall) as Newton and company made pre-holiday mincemeat out of the Bucs with two huge scoring runs right out of the gate. Newton finished 23-of-32 for 221 yards with two passing touchdowns along with 11 scrambles for a team-leading 50 rushing yards and a third score on the ground, proving the ongoing theory that Thursday night games are either sleepers or blowouts.

One of Sunday's really, really good games came courtesy by of all teams, Detroit and Dallas. I'm not sure which was/were the best moment(s): Me cheering for Dallas up until I checked my picks and realized I had Detroit…then happily realizing the Lions hung in there despite four turnovers that could have cost them the game…Megatron's Megagame (329 yard with 14 catches and a TD)…Matthew Stafford's game winning "going-over-the-middle-nope-I'm running-in-for-it-over-dar-on-da-left" game ending TD…or…watching Dez Bryant self-destruct on the sidelines any number of times like a five year old who ate his whole bag of Trick or Treat candy in one sitting. So many choices! Kick 'em all you want folks, (and heaven knows, they've skunked me in the past) dem Lions are coming on strong the second half of the season. Speaking of strong, here we go again – the Chiefs won. Now, there are those who are saying it's due to their rather cupcake schedule (nuttin' personal, booger bear) and then there are those who are saying it's about time given the depth of talent they have had finally matched with a good coach. Yet, we've got to be real here folks, as the Chiefs nearly didn't come out on top in this one, what with Alex Smith getting sacked six times and up against Jason Campbell, the Browns 3rd (or 4th???) string QB (I've truly lost count) who himself threw a pretty decent game, going 22-of-36 for 293 yards and two touchdowns . Kansas City's schedule gets a wee bit tougher with a couple of Broncos games sandwiched between the Bills and the Chargers, (cupcakes perhaps, but spoilers for sure) so we shall see folks if this miraculous season continues.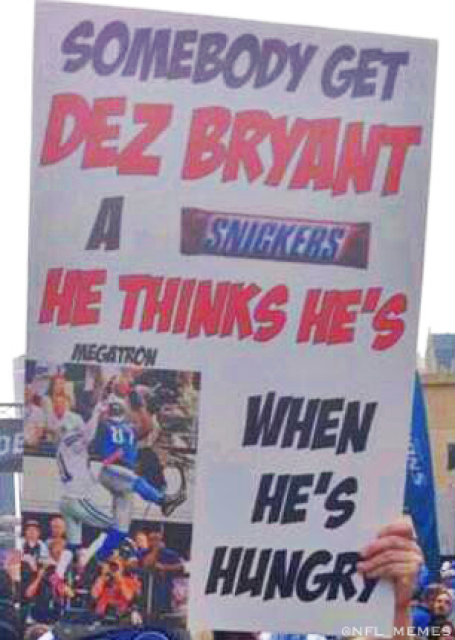 It must have been the fan boos at the end of the first half that finally got the Patriots going as it was all Dolphins in the first two quarters of their matchup. Despite a pretty overall lackluster performance by Tom Brady who ended the day with 116 yards, his second fewest in a game since 2006, it's pretty obvious to most that Brady has a hand injury even though he's maintained a "Hand injury? What is this hand injury you speak of?" attitude. New England took advantage of their new core running backs finally getting into sync and some strong halftime corrections by way of three Tannehill forced turnovers to score 24 unanswered in the second half. In NOLA, Mr. Brees came back from his bye week all full of piss and vinegar and took it out on the Bills going 26-of-34 for 332 yards with five touchdowns, which completely ruined Thad Lewis' Superdome debut, who not only suffered through three turnovers but now has some injured ribs to deal with.
It's been said in the past that Chip Kelly is making some pretty big NFL rookie coaching mistakes in his first year, but probably none as big as starting Michael Vick when he clearly wasn't ready. Vick claimed he was 80% healed and going up against the Giants Kelly mistook that mathematically for 100% which quickly proved not to be the case as Vick once again popped his hammy. Go figure that with their five field goals win, the Giants at 2-6 are now in the race for the NFC East, just two games behind the Cowboys (now 4-4), thanks to their loss. Well, if you can't beat 'em, cheer for the other team to beat 'em, I reckon'. Wembley Stadium was rocking again NFL style on Sunday afternoon, and at least this time they saw one good team play which was obviously their favorite, what with the 49er's 28-0 halftime lead and all. Playing like he was trying to win freedom for #'merica or something, Colin Kaepernick had his way on the ground in the air and everyplace in between, completing 10-of-16 passes for 164 yards and a touchdown along with 54 yards and two rushing scores on seven scrambles. And just for grins and giggles, he also drew a 31-yard pass interference call. Can you believe this is the first of four games in London scheduled for the Jaguars over the next four years? Is the NFL trying to say something?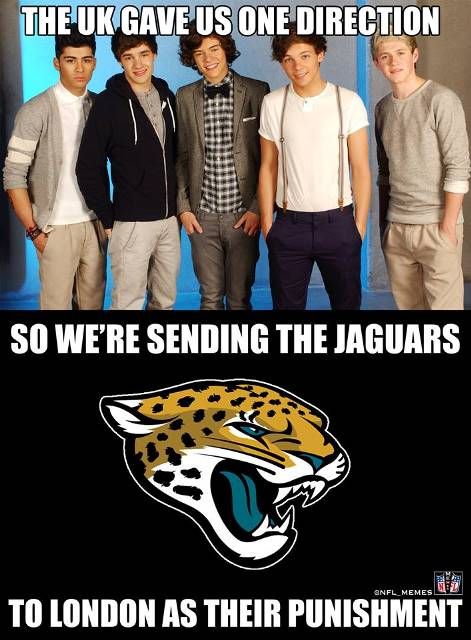 Oakland running back, err, I mean quarterback, Terrell Pryor set an NFL record with an opening drive, 93-yard touchdown run to show the Steelers they had come to play in Sunday's "meh" game of two 2-4's playing. Besides those dramatics, Pryor's performance really wasn't great as he went 10-of-19 for only 88 yards and two interceptions against the pretty hapless Steelers. Other than a fight in the second quarter, there really wasn't much else to get excited about in this one. Those of you following the Jet's sequence of win-loss-win-loss-win-loss-win undoubtedly knew to take Cincy this weekend. Not just because Cincy is that good, but because with win comes a loss next go around for New York. Andy Dalton played outta his mind, going 19-of-30 for 325 yards, five touchdowns and one interception on a poorly decided throw into double coverage. Geno Smith helped the Bengals cause along the way with a deuce of pick sixes, as he tried to play all afternoon with a running game that got up and left.
There's a rumor afloat that the Denver running backs play "Rock-Paper-Scissors" to see who gets handed the ball, and if it's true, Knowshon Moreno was on one hell of a roll Sunday, as he ended the day with 14 carries for 44 yards, as well as six receptions for 89 air yards and a TD. Props also to ex-Badger Montee Ball for getting his first NFL TD. Oh c'mon, you knew that was coming

This game surely didn't start out as the blow-out it ended up to be, with Washington up 21-7 early in the third quarter before Peyton and the Denver D simmered down to score 38 unanswered points. It took a sixth round draft pick in his first NFL start to fire things up for Arizona in their win against Atlanta. Andre Ellington rushed for 154 yards on 14 carries, including an 80-yard TD run and along with the AZ defense who managed to pick off Matt Ryan four times, figuratively stuck the fork in Atlanta's season. Not to be outdone, Larry Fitzgerald caught four passes for 48 yards and a touchdown, his 800th career reception and (for now at least) is the NFL's youngest to do so.
Green Bay managed to smoke the Vikings despite being still down three of their top receivers, relying instead on Aaron Rodger's arm and the legs of Eddie Lacy. I know, I know – who? Rodgers really schooled the Vikings QB's, finishing 24-of-29 for 285 yards for two touchdowns, while he also ran for 31 yards. Yes, boys, this is how it gets done. Ponder wasn't awful, he was just Ponder, which makes me ponder who will play next week against Dallas – the ineffective Ponder or the inaccurate and concussed (*cough, cough*) Josh Freeman. I've got to admit, watching loud mouth ex-Packer Greg Jennings get plastered by his own teammate at the goal line was sweet as was hearing the large Packer contingent in the stands shouting "Go, Pack Go!." Karma, baby. Karma. Finally, last night's game with Seattle playing the beleaguered Rams (minus Sam Bradford and Brett Favre) was predicted to be an offensive blow out, courtesy of the Seahawks. Not so fast folks, as the holes in the Seahawks offensive line showed brightly. Russell Wilson who struggled throughout was sacked a career high seven times, while completing just 10 out of 18 passes for 139 total yards. Defense ruled both sides of the ball, including the goal-line stand by the Seahawks in the final minutes to kill the Rams chances of being the only St. Louis team to win yesterday. As to the Hawks, things better improve and fast on offense if they expect Wilson to last the year without getting injured. Let's be real – there's nothing to the guy. It's sort of like Rudy Ruettiger behind the ball.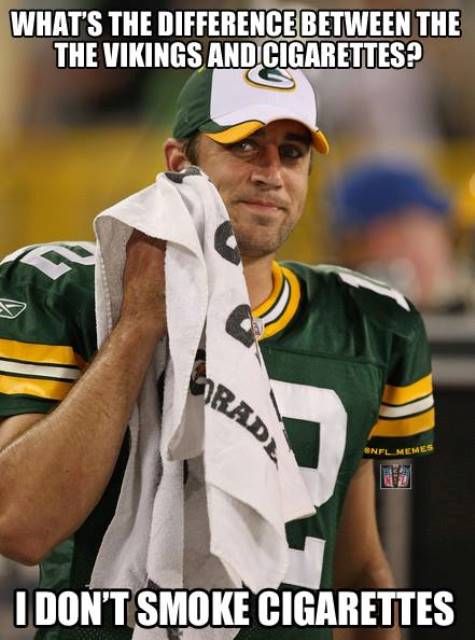 A necessary PSA from The Commish:With Bye Weeks comes fewer games which equates to less room for errors in picks. I'd be remiss (and possibly fired as Commissioner) to not mention the all-important picking of a tie-breaker and a solid one in general, as that can really come into play. For the record, I do try to catch when tie-breakers are missing and send PM's, but as life gets in the way sometimes in all things S.I., I realize my warnings are sometimes missed. Therefore peeps, as we round second on crowing our champion for the year, I implore all of you once again to double check your picks for accuracy that you've chosen a winner for each game and you that have the tie-breaker for MNF.
OK…here we go – let's all give a rousting WAY TO GO to our newbie player, FacePunched, for a brilliant 12/13 accuracy picking average this week!
WOO HOO! CONGRATS FacePunched!!!

FacePunched gets crowned our winner even though he tied Yme in correct picks, though his tie-breaker was over the final MFL score of 25 and unfortunately Yme neglected to choose one. The biggest group of pickers scored 11/13 correct for places third through ninth including Yours Truly in third, Chico in fourth, lingerdog in fifth, ray-ray in sixth, kernel in seventh, MissesJai in eighth and purplejacket in ninth. Rounding out the top ten we have Manningup26 with 10/13 correct.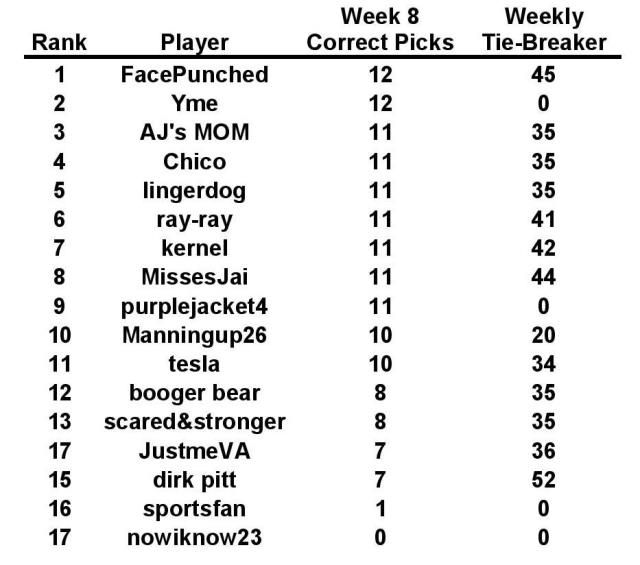 We had some slight movement in the overall standings, yet the top two places stayed the same – MissesJai is now the front runner with 79 while purplejacket4 is just behind with 77. Also with 77 is Yme in third, who jumped up three spots this week. In third place and dropping down from second last week is tesla with 75, while kernel, also with 75, jumps up two spots to take command of fourth. Speaking of leaps, lingerdog sprinted up three spots to take over fifth, JustmeVa dropped down three into sixth place while ray-ray jumped up to take over seventh. Yours Truly jumped up three to take over eighth, while this week's winner, FacePunched, also jumped up three to take over ninth. Our pal booger bear maintained tenth place overall with 67 cumulative points thus far.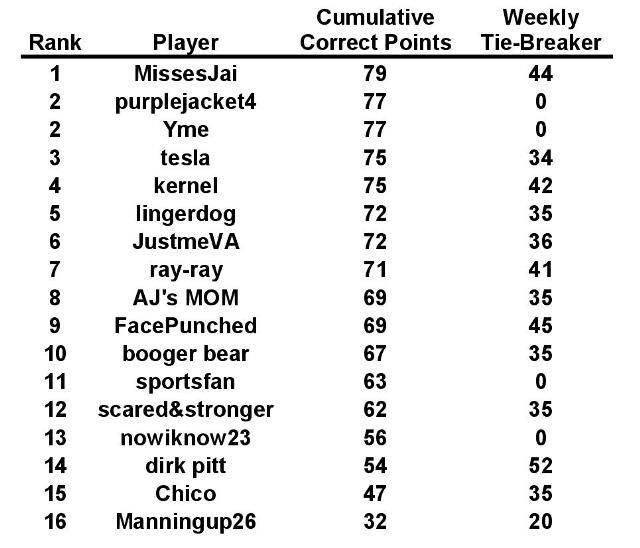 We've got another bye laden week players, so once again you'll only have 13 chances to improve your totals. Practice safe picking!!

N.F.L. Games – Week 9
Thursday, October 31st
7:25 PM CT
Cincinnati at Miami
Thursday's Pick due by 5 PM CT Thursday, October 31st

Sunday, November 3rd
NOON CT
Kansas City at Buffalo
San Diego at Washington
Atlanta at Carolina
Minnesota at Dallas
Tennessee at St. Louis
New Orleans at NY Jets
3:05 PM CT
Tampa Bay at Seattle
Philadelphia at Oakland
3:25PM CT
Pittsburgh at New England
Baltimore at Cleveland
7:30 PM CT
Indianapolis at Houston
Monday, November 4th
7:30 PM CT
Chicago at Green Bay – TIE-BREAKER GAME
Teams on Bye Week: Denver, Detroit, NY Giants, Arizona, San Francisco, Jacksonville.

Sunday and Monday picks are due by 11AM CT Game Time Sunday, November 4th

Good luck, everyone. Have fun!

The Commish